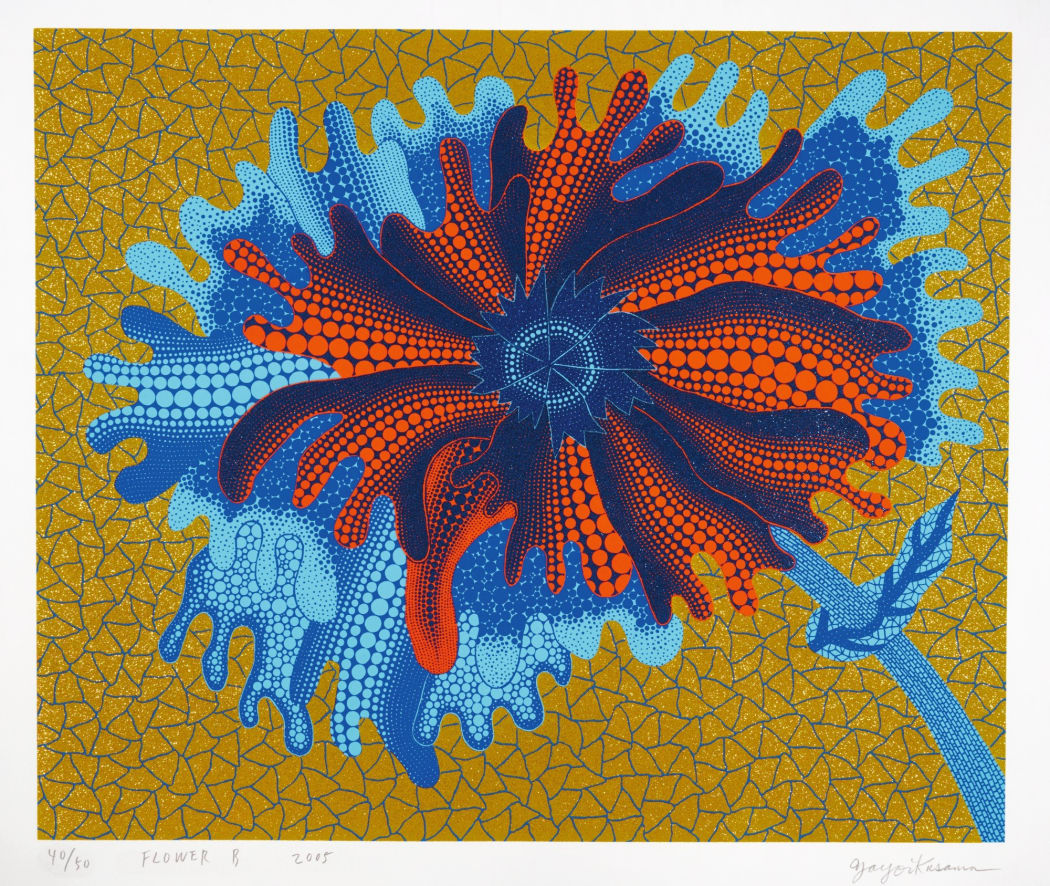 Yayoi Kusama was born in 1929 in Matsumoto, Japan to a middle class family. From an early age she expressed both a rebellious and creative personality and drew inspiration from nature - her parents were seed farmers which perhaps explains her interest in organic matter such as pumpkins and flowers as some of her chosen subjects. Although her parents did not want her to become an artist, the young Yayoi rebelled against her mother who forbade her from painting. This rebellious streak has continued throughout her career with her avant garden approach to multidisciplinary art creation.
A great admirer of Georgia O'Keeffe, Kusama took her advice and relocated to America after reaching out to the artist writing, 'I'm only on the first step of the long difficult life of being a painter. Will you kindly show me the way?' O'Keeffe responded advising Kusama to come to America and show her works to the public.
Once again, her fierce spirit of rebellion emerged as she went against what she perceived as her parents' old fashion values and, against their wishes, decided to move to New York where she lived between 1958 and 1975. Describing her art as a sort of medicine, it is no secret that Kusama has struggled with mental health issues throughout her career. Indeed, her famous Infinity Net paintings, which first got her recognised in New York, are said to come from the visual hallucinations that she has had since childhood.
One of Kusama's earliest supporters in New York was Donald Judd who, at that time, was working as an art critic for ARTnews. According to the Judd Foundation:
"The review begins: "Yayoi Kusama is an original painter." Describing his first meeting with Kusama at her studio, Judd said, "I thought that the paintings were terrific and I wrote that all down… As I said in the review, they were the best paintings being done. Or at least the best paintings that were new in any way, I mean besides from Newman and Rothko and older people."
The Brata Gallery show contained five paintings from her Infinity Net series. In a text titled, "Post-War Reflection," Kusama writes, "My Works are usually painted flat on undivided space so that each microscopic mass is followed by another and its surface has a concrete appearance when looked upon as a whole showing a group of remarkably vast masses. By repeating this point action, one by one, I add limitless concreteness to the space with layers of white oils." From the Brata Gallery exhibition, Judd purchased one of the paintings for $200, which he paid for in four instalments. As Kusama wrote in her autobiography, "Donald Judd was my first close friend in the New York art world and he was the first to buy one of the pieces in the exhibition." Through these initial encounters, Kusama and Judd developed a decades-long friendship, which can be seen in the correspondence found in the Judd Foundation Archives."
Indeed, the Infinity Net paintings which sold for $200 USD at the time now command six figure sums leading Kusama to becoming one of the biggest selling female artists.
Among the many mediums through which she expresses her creative vision, limited edition screenprints stand as one of the most sought-after and collectible forms of her artwork. For collectors who might not have the means to acquire an original Kusama artwork, limited edition screen prints offer an accessible entry point into her diverse body of work. While still valuable and cherished, screen prints are often priced more affordably than one-of-a-kind pieces, making them an excellent starting point for art enthusiasts to dip their toes into the world of collecting fine art.
Beyond their aesthetic and emotional appeal, Yayoi Kusama's prints possess significant investment potential. As an iconic artist with a consistently growing global following, the value of her works tends to appreciate over time. Her screenprints, often featuring her signature polka dots or mesmerising pumpkins, possess a timeless quality that can seamlessly integrate into any home or office decor. As such, they offer collectors not only an investment but also an opportunity to enhance their living spaces with visually stunning and thought-provoking art.
Each print is a window into her mind, a reflection of her dreams, struggles, and inspirations. Owning one of her screenprints enables collectors to connect with Kusama's artistic vision on a personal and intimate level, fostering a profound sense of appreciation for her groundbreaking contributions to contemporary art.
Embrace the enchanting world of Yayoi Kusama, and let her art brighten your existence, one print at a time. For more information on our selection of Kusama prints, contact
sales@andipa.com
or call +44 (0)20 7589 2371.