Never one to shy away from controversy, Hirst's provocative installations that are as shocking as they are engaging, have dictated discourse around the concept of art well since their creation in the early 2000's. A key figure whose influence can be seen in countless artists that have arisen since his arrival on the scene, Hirst is the most successful living British artist. We share 10 facts about the enfant terrible of British art.
A Rule Breaker From A Young Age
Hailing from Leeds and born halfway through the swinging sixties, Hirst is a child of the heady reaction to post-war britain. A time of great social change, the 60's saw the birth of youth culture and of great social movement. As social rules were ripped up, Hirst too tried to rewrite the rules. Arrested twice as a child for shoplifting and even from stealing art supplies at school. Hirst displayed a penchant for art from a young age despite achieving an E grade in his O levels. The rest, as they say, is history.
Death: The Great Leveller
Throughout his career death has been an ongoing subject that Hirst has explored in a variety of works. Notable works that show Hirst's exploration of death include The Physical Impossibility of Death in the Mind of Someone Living, Mother and Child (Divided) and within his printed editions Memento, Sanctum and, of course, his skull prints. Hirst was exposed to death, as we all are, from a young age and as a teenager worked at a mortuary. On death, Hirst has said, "I was taught to confront things you can't avoid. Death is one of those things. To live in a society where you're trying not to look at it is stupid because looking at death throws us back into life with more vigour and energy."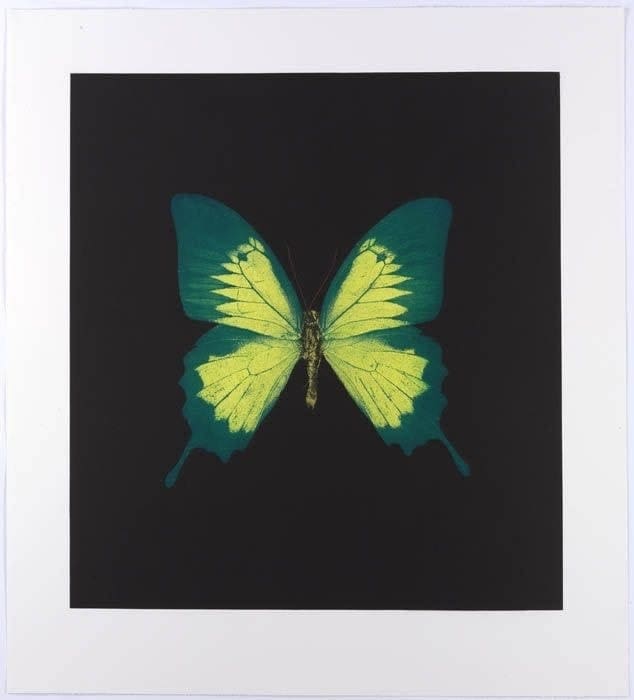 Young British Artists
The term coined for the group of innovative artists famously including Hirst, Emin and Quinn, the Young British Artists or YBAs as they were known, rose to prominence in the UK in the late 1980s and internationally in the early 1990s. The group represented a new and exciting time for British art and were seen to be provocative and controversial - two terms commonly used to describe Hirst and his work. During this period Hirst first came on the radar of Charles Saatchi.
Commercial Beginnings
With the patronage of Saatchi, which lasted around a decade, Hirst hit the mainstream and became a global sensation. Works created around this time include the iconic The Physical Impossibility of Death in the Mind of Someone Living. Much like the ship of Theseus, the shark has been replaced in the work across the course of its existence. Originally costing £50,000 GBP, the work sold for around £10m GBP. Alan Riding, writing in the The New York Times in 2007 says,
"Mr. Hirst is a shining symbol of our times, a man who perhaps more than any artist since Andy Warhol has used marketing to turn his fertile imagination into an extraordinary business."
Critical Success
Hirst has gained critical for his works and received praise within the art world. Winning the Tate Britain's Turner Prize in 1995 for his installation Mother and Child Divided which comprises of a cow and her calf each dissected into two and contained in four glass boxes.
Auction Records
Hirst is famously known for his auction success and The highest price ever paid for a Damien Hirst artwork in September 2018 at Sotheby's when The Golden Calf sold for £10.3m GBP. The work consisted of a bull suspended in formaldehyde solution with solid 18-carat hoofs, horns and a golden disc on its head.
The King of Controversial
From his dissection of animals preserved in formaldehyde to his spot paintings and diamond-encrusted skulls, Hirst has persistently blurred the line between creative genius and sensationalism.
The Physical Impossibility of Death in the Mind of Someone Living
Hirst's first major controversy arrived with his 1991 piece, "The Physical Impossibility of Death in the Mind of Someone Living." The artwork, which featured a tiger shark suspended in a formaldehyde-filled tank, sparked outrage from animal rights activists, who argued that the use of a dead shark for artistic purposes was unethical. Others questioned whether the piece could even be considered art, given its reliance on shock value rather than traditional artistic techniques. However, Hirst defended his work, arguing that it pushed boundaries and made viewers question their perceptions of art and mortality.
For the Love of God
Perhaps one of Hirst's most notorious pieces is the 2007 artwork "For the Love of God," a platinum cast of an 18th-century human skull encrusted with 8,601 diamonds. Criticised as an ostentatious display of wealth and a macabre fascination with death, the piece was sold for a reported £50 million. Many art critics decried the work as an exercise in excess rather than a profound statement about mortality and vanity.
Spot Paintings and the Issue of Originality
Another point of controversy surrounding Hirst's career is his spot paintings. These are a series of works made up of rows of randomly coloured circles. Critics argue that these pieces, often created by his assistants, raise questions about authorship and originality in art. The fact that these works were mass-produced by a team rather than the artist himself led many to question the value and authenticity of the pieces. Hirst countered these criticisms, arguing that the conception of the idea, rather than its execution, is what constitutes art.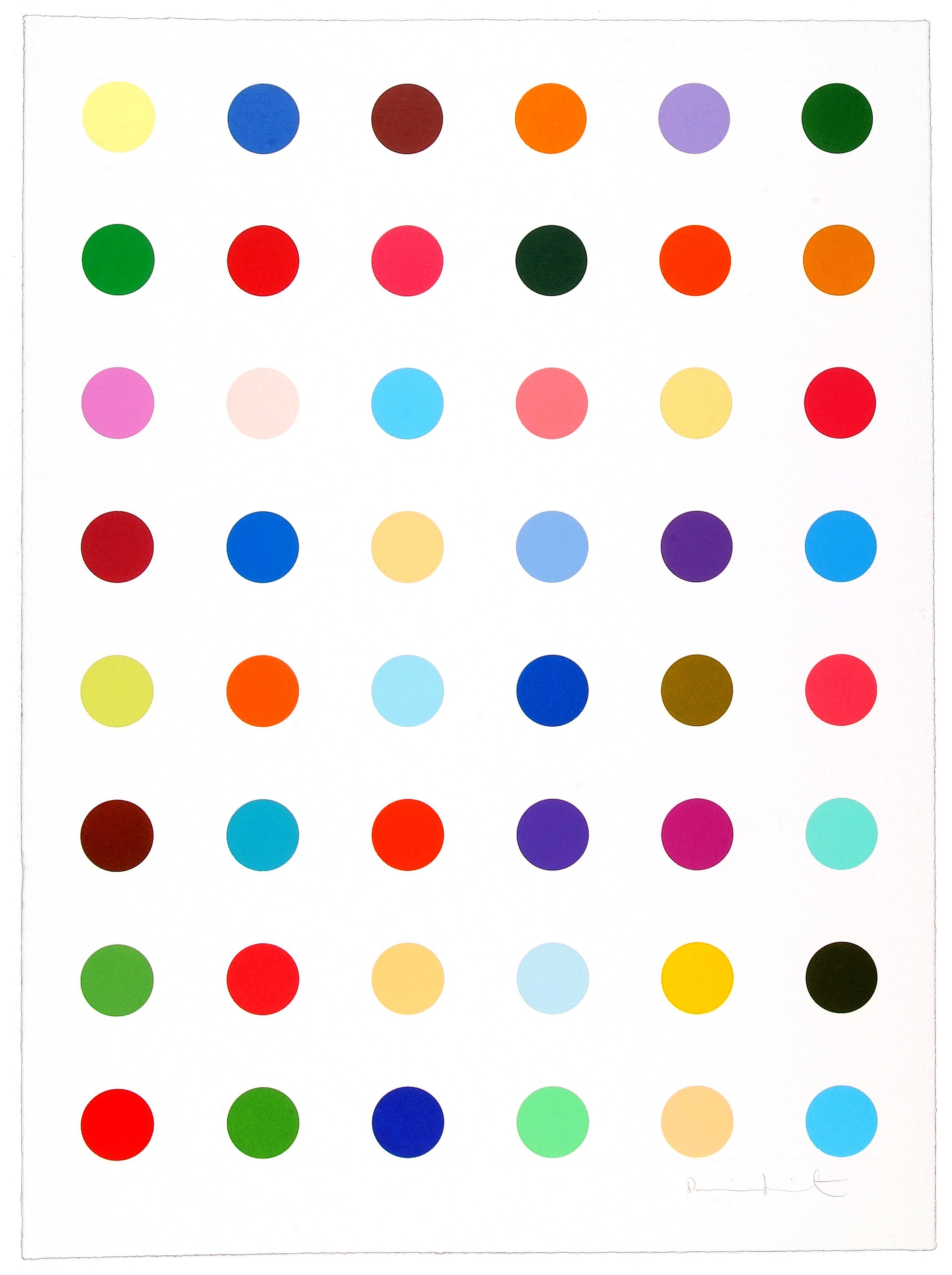 The Treasures from the Wreck of the Unbelievable
Hirst's 2017 Venice exhibition, "The Treasures from the Wreck of the Unbelievable," sparked yet another controversy. This ambitious project, a decade in the making, presented a collection of supposedly recovered artefacts from an ancient shipwreck. However, critics accused Hirst of cultural appropriation, as the exhibition featured objects inspired by a variety of global cultures. The show was also criticised for its perceived narcissism and extravagance, further fanning the flames of controversy.
For more information on our
Damien Hirst original artworks
and to discover our
Damien Hirst prints for sale
, contact Andipa via
sales@andipa.com
or call
+44 (0)20 7589 2371.