8 Fascinating Facts About Keith Haring
Keith Haring, whose vibrant and distinctive visual language became emblematic of the 1980s New York art scene, is a name that resonates with many, even today. Here are ten facts to deepen your appreciation of this iconic street-artist.
Street Art Beginnings
Haring started as a street artist, drawing with white chalk on empty advertising panels in subway stations. These drawings, sometimes completed in mere minutes, captured the attention of commuters and laid the foundation for his future fame.These drawings, often of dancing figures and radiant babies, were eye-catching and quickly became a recognizable part of the NYC commuter's experience. A cultural activist, Haring's connection to the street allowed him to forgo and break the conventional gallery system. His output, which totalled over 5,000 pieces of public art in the subways from 1980 -1985, saw him use the large black panels of matte paper that were without advertising posters as his canvas. Executed using chalk, he would hop out when he would spot one of these opportunities and draw fast (never loose), simplified images while being watched by an audience and hoping not to be arrested.
Pop Shop
In 1986, Haring opened the Pop Shop in Manhattan, a store where he sold his art in various forms, from posters to T-shirts. The shop was a way for Haring to make his art accessible to a wider audience, challenging traditional notions of the art market. Opening on April 19 1986 in SoHo's Lafayette Street, Haring launched his first Pop Shop - the concept would go on to redefine artist/fan interaction and inspire brands across the world. In his own words he said, ''there were so many copies of my stuff around that I felt I had to do something myself so people would at least know what the real ones look like.'' Decorated by Haring, the small store was decided with only one of each item on display with a salesclerk checking off the things customers wanted to buy and merchandise was picked up at a counter - a counterculture Argos if you will. Perfectly described by Haring, the store was his "version of fast food or fast art.'' Explore more about the history of Keith Haring's Pop Shop.
Social Activism
From the start Haring used his art to discuss topics of social and political importance. In particular, his work often deals with themes of homosexuality and AIDS. AIDS advocacy was of particular importance to the artist, as he himself was diagnosed in 1988. Other themes that Haring explored included apartheid and the growing crack epidemic in New York. In fact, his infamous Crack is Whack mural on New York's FDR Drive tackles this topic. Whilst the mixing of art and social or political causes was not new, Haring took this idea and made it central to many of his works and style. Especially in the world of graffiti at the time where tagging was much more common, Haring removed the ego by focusing on his unique line drawing style and raising awareness. His art was a vehicle for change, commentary, and activism.
Radiant Baby
The baby, as a universal symbol, represents innocence, purity, and potential. Its radiance can be seen as the inherent goodness, light, and potential that every individual brings to the world. Haring's emphasis on these qualities serves as a reminder of human potential and hope. One of the significant aspects of Haring's work is its accessibility. The simplicity of the "Radiant Baby" makes it universally recognisable and relatable, transcending linguistic or cultural barriers. The radiant lines around the baby are reminiscent of religious halos, typically found in Christian art to denote sainthood, divinity, or spiritual enlightenment. Though Haring's work often used religious motifs in secular contexts, it's possible to interpret the Radiant Baby as a secular saint — an emblem of hope in a challenging world. By placing the "Radiant Baby" both in public murals and in gallery spaces, Haring blurred the lines between street art and fine art. This challenged traditional art hierarchies and expanded the audience for his work.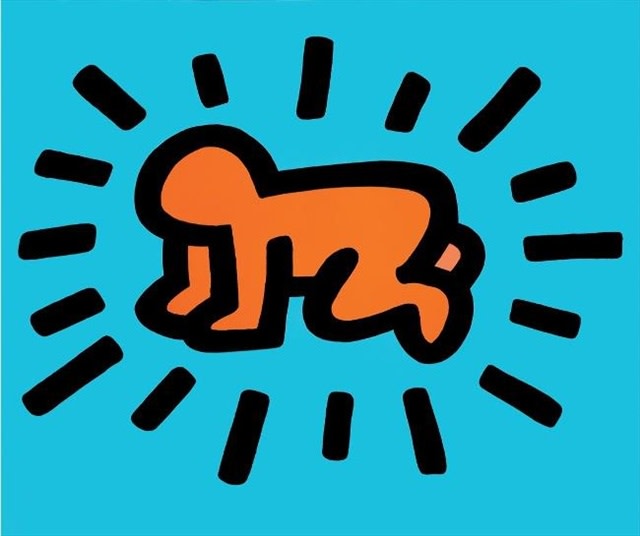 Collaborations with Basquiat
Haring and Jean-Michel Basquiat were contemporaries and friends in the New York art scene. Both are considered among the most influential artists of their generation and collaborated on a number of projects. While Haring began with chalk drawings in subway stations, Basquiat started as a graffiti artist under the tag "SAMO." Their street roots greatly influenced their later works and provided common ground for their collaborations. Both artists often addressed social issues in their work. Themes of racism, capitalism, and other systemic issues were recurrent. Their shared concerns led to collaborations that were politically charged and emotionally raw. While the two artists are known more for their individual careers, they did collaborate on several pieces. Their works together seamlessly blend Haring's emblematic radiant figures and lines with Basquiat's cryptic texts and symbolic motifs.The East Village's vibrant art and club scenes played a crucial role in the trajectories of both artists. Clubs like Club 57 became hubs for innovative art, music, and performance. Haring and Basquiat both participated in this culture, influencing and being influenced by their contemporaries. Buy Jean Michel Basquiat prints.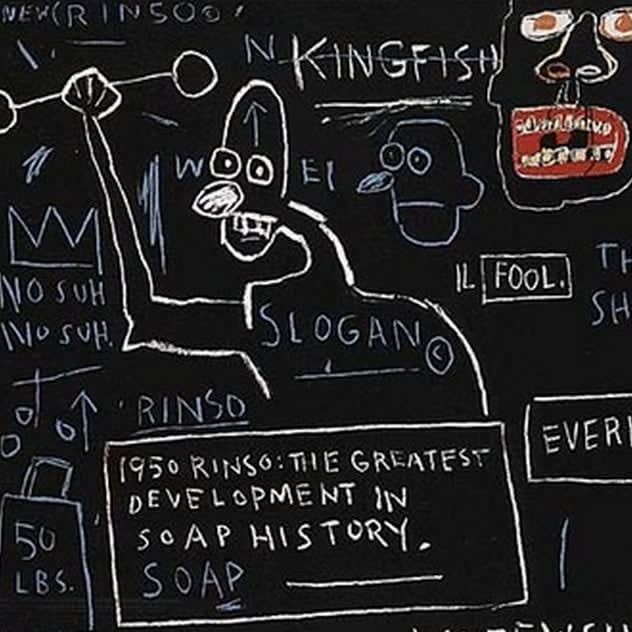 Crack is Wack
The mid-1980s were the height of the crack cocaine epidemic in urban centres across America. Crack, a highly addictive and destructive form of cocaine, devastated communities, leading to a sharp increase in addiction rates, violent crime, and socio-economic degradation. Haring's decision to paint the mural was influenced by a personal connection. A close studio assistant and friend of his became addicted to crack, providing Haring with firsthand experience of the drug's destructive capabilities. This personal connection added a layer of urgency and authenticity to his message.
At 20 feet high and spanning a length of 30 feet, the mural features Haring's signature kinetic figures in bright orange and black. The dominant figure appears to be breaking in half, alluding to the destructive nature of crack cocaine. The bold, capitalised words "CRACK IS WACK" are unequivocally clear in their message.Haring did not have permission to paint the mural when he first began. However, the mural's impact was so immediate and its message so vital that the city ultimately decided to preserve and protect the mural, even making efforts to restore it when it began to deteriorate. The "Crack is Wack" mural became an instant landmark, and the community largely embraced its message. Given its location next to a busy roadway, thousands of commuters and residents saw the mural daily, amplifying its influence. The mural remains one of Haring's most iconic public works. In the years following Haring's death in 1990, the mural underwent multiple restorations, a testament to its enduring significance. The City of New York and the Keith Haring Foundation have collaborated to ensure its preservation. While the mural is undeniably an art piece, it transcends traditional boundaries. It is also a public service announcement, a plea for social change, and a stark reminder of a tumultuous era in New York's history.
Legacy of Activism
After being diagnosed with AIDS, Haring established the Keith Haring Foundation in 1989, a year before his death. The foundation's goals are to support organisations that address issues related to children, the arts, and HIV/AIDS. Emulating Haring's own dedication to children and young people, the foundation supports organisations and initiatives that cater to children's needs and education. The foundation promotes Haring's belief in the power of art to enact change. It provides funding to institutions, programs, and initiatives that ensure that art remains accessible and that emerging artists receive support.The foundation diligently oversees Haring's art and trademarks, ensuring that his work remains in the public eye and that it is not misused. This includes supporting exhibitions, publications, and academic research about Haring and his art. Reflecting Haring's own practices of conducting art workshops for children, the foundation is a proponent of art education, recognizing its potential to foster creativity and critical thinking in young minds.In the spirit of Haring's own engagement with socio-political issues, the foundation supports organisations and initiatives that address issues of social justice, human rights, and more.
Global Reach
While deeply associated with New York, Haring's influence and work spanned the globe. He painted murals in cities from Melbourne to Paris and Pisa, often incorporating messages of peace and unity. Haring's art often drew on symbols and themes that were universally comprehensible, whether it be his "Radiant Baby," the "Barking Dog," or simple, interlinked human figures. These symbols could be understood and appreciated across cultural and linguistic barriers.He often created art in public spaces, from the New York subway to the Berlin Wall, making it accessible to a wide variety of people. His famous mural on the Berlin Wall, painted in 1986, is just one example of his international public art endeavours.Haring travelled extensively during his short life, taking part in exhibitions, projects, and workshops worldwide. These trips took him to countries like Australia, Brazil, France, Italy, Japan, the Netherlands, and many more. These international exhibitions played a crucial role in introducing his work to a global audience.
Through numerous collaborations with international artists, Haring was able to embed his influence in global art circles. Notably, he worked with artists like Pierre Alechinsky (Belgium), Tseng Kwong Chi (Canada/Hong Kong), and LA2 (Angel Ortiz) from Puerto Rico.
Influence on Pop Culture
Haring's legacy persists in popular culture. His visual language has influenced fashion, music videos, and graphic design. Major brands, musicians, and artists continue to draw inspiration from his distinct style. Haring was one of the pioneering figures who elevated street art to gallery and museum status. This movement reshaped the boundaries of "high" and "low" art, asserting that art from the streets had as much value and significance as that from traditional institutions He also collaborated with several celebrities and pop culture figures. For instance, he designed album covers for the likes of Madonna and worked with Grace Jones, painting her body for a live performance. These collaborations placed Haring squarely in the pop culture spotlight. His designs appeared on Swatch watches, T-shirts, posters, and a plethora of other merchandise. He even opened the "Pop Shop" in New York City, a store selling Haring's art in various forms, making it accessible to a broader audience.Many of Haring's symbols, like the Radiant Baby and the Barking Dog, have become pop culture icons in their own right. They've been replicated, adapted, and referenced countless times in various media.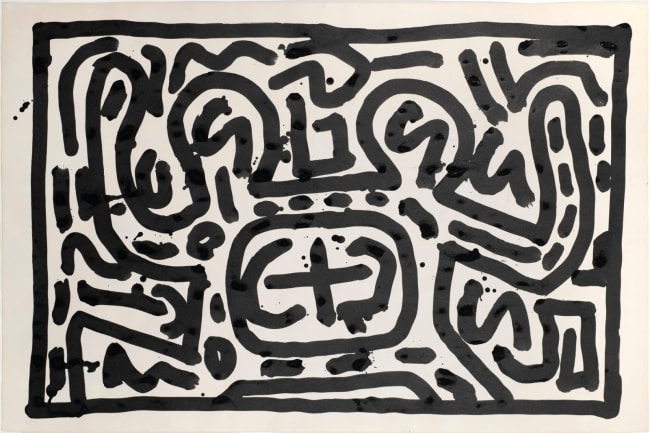 Discover our selection of Keith Haring original prints for sale or buy Keith Haring original artworks. Contact Andipa Editions via
sales@andipa.com
or call
+44 (0)20 7589 2371.