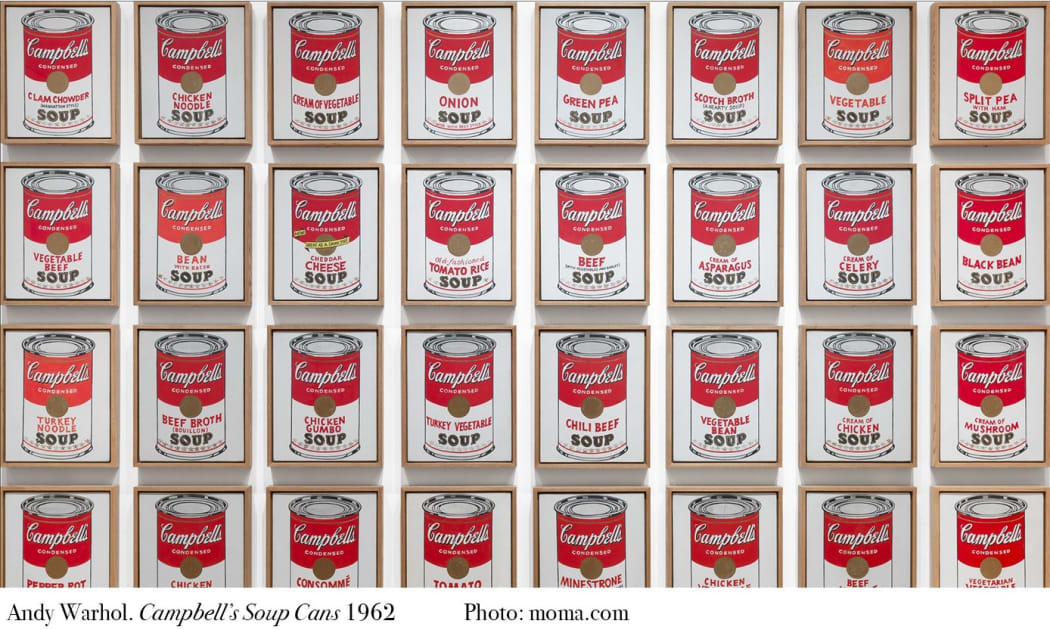 A pioneering artist and cultural icon, Warhol's work is a history of 20th-century America seen from someone who is both an insider and, to a certain extent, an outsider. A time of great social and cultural change, 20th century America was a country in transition, one of reinvention and of change.
Episode 1 Living the Dream
Born, Andrew Warhola on August 6, 1928, in Pittsburgh, Pennsylvania, to working-class Slovakian immigrants. Episode one explores Warhol's childhood in Pittsburgh and his rise from working-class second generation to wealth and stardom in New York City in the 50s. Warhol establishes his name by making everyday foodstuff the subject of his work and in turn creates a sensation which propels him to the A-list of American society.
Friends, biographers and fellow artists including Jerry Hall, Bob Collacello, Penny Arcade, Bianca Jagger, Victor Bockris and Jeffrey Deitch share insights into what was happening at the time and how Warhol both glorified and critiqued American culture.
The first episode established important questions that thematically run throughout the series - principally the searching question of what is so enduring about both Warhol and the art that he produced. Indeed, the programme opens with Jason Bell, a 'former NFL player, commentator and host', discussing the Super Bowl and the almost mythical nature of the half-time show and the adverts that air. Head of Global Brand Marketing for Burger King shares that in 2019, $5,000,000 will buy you 30 seconds of advertising airtime and discuss their campaign using Warhol eating a Burger King burger and how his image still resonates with contemporary society. Throughout the episode, we explore the world that was unfolding in front of Warhol and how he was able to distil the essence of a concept into images that carried deep connotations and provoke such emotional responses.
Befitting of an episode linked to his childhood, we witness how Warhol would take everyday objects and brands that he experienced as a child and draw from them in his art. Warhol's choice of subject matter is a reflection of America,poignantly, his America, and a great quote is shared by an associate of the artist that perfectly summarises Warhol's legacy and impact, "If a bomb exploded and nothing remained of America but Warhol's art, you'd still get a good idea of what America is".
As a great chronicler of America, we see how Warhol is an observer who documents, glorifies and critiques what American culture is. The episode takes us through his heady rise from commercial illustrator to artworld darling and shares insights into his time and arrival in New York,
Understanding more around Warhol's background and upbring adds further context to his prolific output and approach to making art. Episode one shows how Warhol personified the American dream that he so dearly desired - a commercial success story that led to untold riches and fame and charts the birth of a cultural icon, one entirely of his own creation.
"What's great about this country is that America started the tradition where the richest consumers buy essentially the same things as the poorest. You can be watching TV and see Coca-Cola, and you know that the President drinks Coca-Cola, Liz Taylor drinks Coca-Cola, and just think, you can drink Coca-Cola, too. A Coke is a Coke and no amount of money can get you a better Coke than the one the bum on the corner is drinking. All the Cokes are the same and all the Cokes are good. Liz Taylor knows it, the President knows it, the bum knows it, and you know it."
Episode 2: American Nightmare
The second episode charts Andy Warhol's response to the Civil Rights movement and the assassination of John F. Kennedy, as well as other major historical events happening in America in the 60s. We hear stories about Warhol setting up the Silver Factory and managing The Velvet Underground, and also how he faced his own personal nightmare; he was shot by a Factory associate.
We get to understand Warhol on a more personal level as associates and interviews share insights into his motivations and how he would work. The analysis and stories shared do not necessarily cover warhol in glory. To a certain extent, we see an almost lonely figure - one who surrounds himself (at the time) with people that he was able to exploit and manipulate.
Denise Barefield-Pendleton, says of his picture snatched from a race riot in Birmingham, Alabama, that "My impression is that his intentions were strictly to generate money for [himself]. And so he decided to employ the struggles of black Americans in his artwork. Very nice."
The most interesting parts and indeed in Warhol's life, take place without him. We see how he grabs moments from events and makes simple snapshots and turns them into saleable artefacts. We see the inherent genius within Warhol#s ability to commercialise his art and his skill at being able to capture and create the cultural zeitgeist of things, people and places that were unfolding at the time.
We also see how Warhol started to move away from the pop-art movement and embrace avant-garde filmmaking through his works such as Chelsea Girls, Mario Eating a Banana, Kiss and Sleep. Regardless of his intentions, one has to admire Warhol's near obsessive pursuit of creation and his ethic that drove him.
There is no commentary, no context and no sense of anything other than vacuous reflection. Asked why he used a picture of an electric chair in one piece, he replies "Because it's beautiful". A brainless attendee at the subsequent exhibition says, almost to camera, "I'm dying for my husband to buy me an electric chair. A yellow one."
Episode 3: Life and Death
The third and final episode sees a much more cautious Warhol; a man obsessed with money and security. Following his near death experience, Warhol experienced a significant change in his life - one that saw him move away from the Factory and the renegades that would inhabit it. The shooting, which he barely survived, quite understandably scared him tremendously and from that moment on he effectively abandoned any lingering attempts to be 'avant-garde' and concentrated on 'bringing home the bacon' – "Making money is art, and working is art and good business is the best art."
During this period, 70's and 80;s America, Warhol reflects on the upper echelons of American society and becomes obsessed by Nixon's visit to China. He also documents the underside of US life, exiled drag queens, racism and the plight of the homeless. Struck by the difference between rich and poor, he volunteers in a church soup kitchen.
We are given insights into the subject matter of one of the subjects of his Ladies and Gentlemen series, Wilhelmina Ross, and her sad ending. The element of manipulation that has run through the series returns with an interview with the nephew of a person who died in the plane crash that was immortalised in Warhol's 129 Die in Jet!.
Over the course of the series a portrait of an artist that is fascinating in its hideous way seems to emerge. We get the impression of a man who, as an artist, whose skill lay in his ability to capture the times as well as rapidly commercialise his output. However, for all his great works an element of sadness seems to underpin the series as we see someone who clearly struggled with himself and those around him. Fast-paced and exciting, Andy Warhol's America is an excellent watch for both those familiar with the artist and those new to him.
Discover our selection of
Andy Warhol original prints for sale
and contact Andipa Editions via
sales@andipa.com
or call +44 (0)20 7589 2371 for further information.