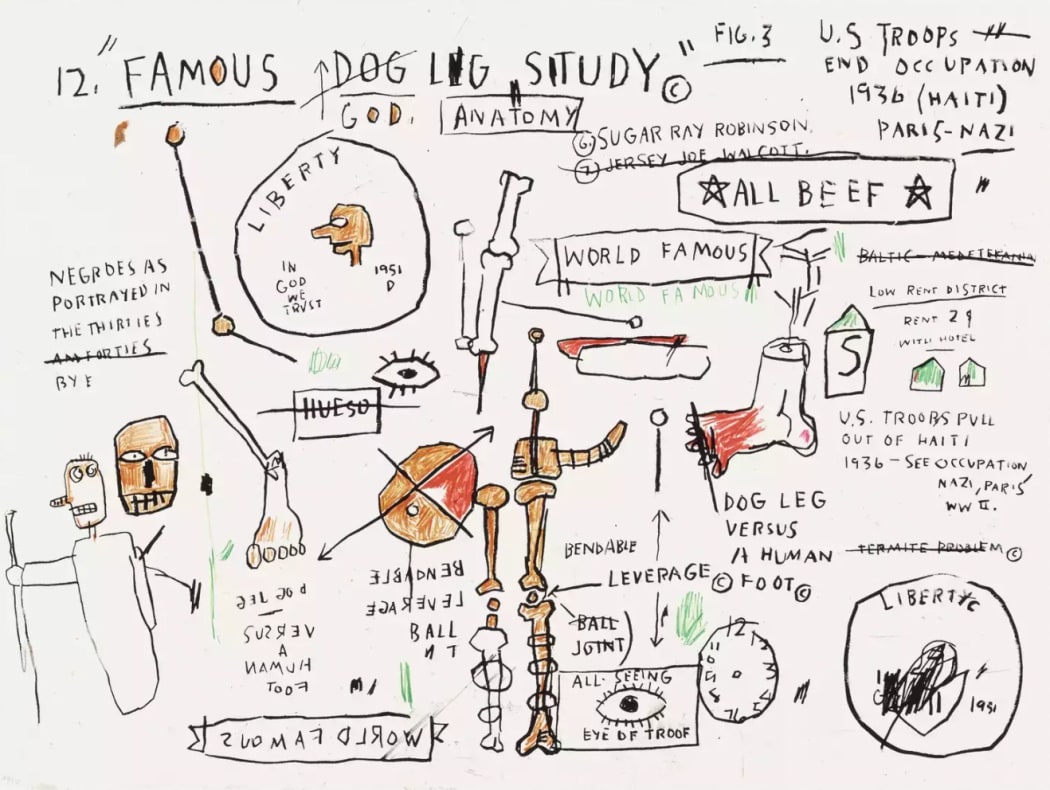 How has Basquiat influenced popular culture?
Whether you are familiar with the artist and his works or are new to Basquiat, without a doubt you would have seen his proto-expressive symbols, signs and images. From crowns to dinosaurs, chemical formulas to skulls - Basquiat's rich visual lexicon is distinctly recognisable. From films and tv to music and fashion, Basquiat's imagery has inspired some of the most famous creatives for more than three decades.
Basquiat's Influence on Music
Basquiat's relationship with music was intimate and intricate. He played in a band, produced music, and many of his artworks feature references to jazz, blues, and hip-hop - and reflected the exciting emergence of punk, new-wave and hip-hop in New York of the 1980's. Indeed, Basuqiat famously, before being the superstar that we know today, sold his first painting to Debbie Harry from Blondie and even started in the video for the 1980 song by the band Rapture. Since his death, Basquiat's intersection with music, hip hop in particular, has grown. Indeed, Brooklyn rapper Jay-Z has referenced Basquiat on numerous occasions.
"Ain't I" featuring Timbaland, 2008:
"I got Warhols on my halls walls, I got Basquiats in the lobby of my spot,
I'm so sophisticatedly hood, S. Carter cashmere premium goods."
Decoded, 2010
Jay-Z breaks down some of his most interesting and veiled lyrics in his autobiography Decoded, including his reference to Basquiat in the "Grammy Family Freestyle." Hova cites the Basquiat work Charles The First as his source for the lyrics "most young kings get their heads cut off" on "Most Kingz." He also comments on Basquiat's struggle with fame and the artist's death as a cautionary tale.
Beyoncé and Jay-Z honoured Tiffany & Co. with their presence in the diamond company's fall 2021 About Love campaign. The power couple, dressed in black, appears in front of Jean-Michel Basquiat's Equals Pi (1982) painting in images shot by Mason Poole. However, the use of the artwork was criticised by associates of the artist with Al Diaz, another of his friends and collaborators added: "People think that his association with luxury was because he was impressed with that shit, but he couldn't care less." Guardian.
More recently, in 2023 Jay-Z performed at the opening of the Fondation Louis Vuitton's Basquiat x Warhol, four hands exhibition. Once more showcasing his respect for the artist and the symbiotic nature between Basquait's art and fashion.
Various other rappers have referenced Basquiat including Kanye West who has featured a Basquiat-inspired crown on his "Yeezus" tour merchandise, and Basquiat's influence can be seen throughout his creative endeavours. Much like Jay-Z, Kanye has referenced Basquiat on numerous occasions
Ricky Ross ft Kanye West- Heartless Remix, 2009:
"Paintings on the wall, Basquiat is her favourite
Black Maybach way trilla than a slave ship"
Kanye West ft Jay-Z – That's my bitch, 2011:
"She say I care more about them Basquion's
Basquiats, she learning a new word, it's yacht"
Appreciation of the artist can also be seen in songs by other rappers including Nas, J. Cole and Lil. Wayne.
In 2012, Basquiat once again was in the spotlight through inspiring the cover of hip-hop magazine Complex's cover. The cover paid homage to the famous image of Andy Warhol and Jean-Michel Basquiat used for their joint 1985 New York exhibition and used artists r Jeremy Scott x A$AP to recreate the photo.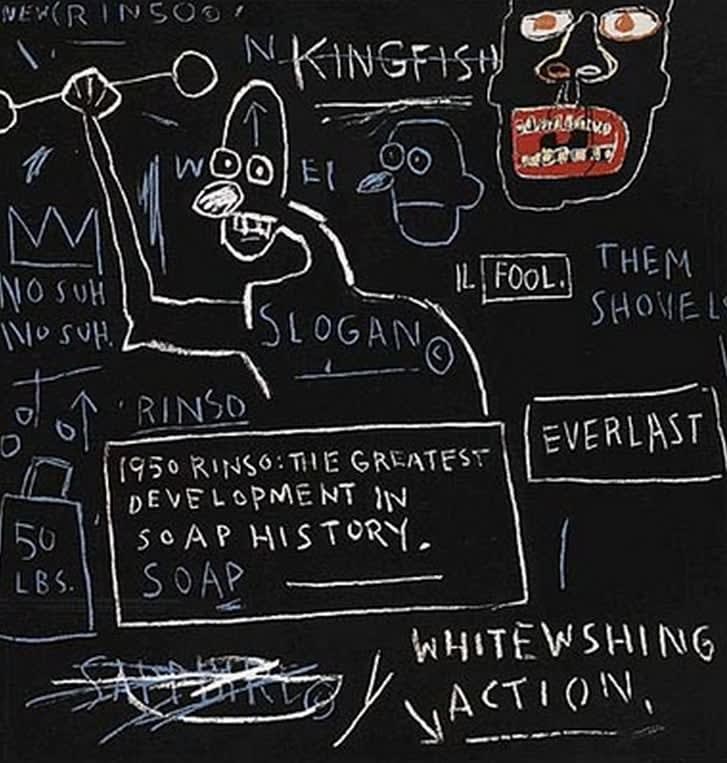 Basquiat in Film & Television
The silver and small screens are no stranger to Basquiat's enduring cultural legacy. Various films and series have referenced the artist over the years including the biographical drama *"Basquiat"* (1996) directed by Julian Schnabel showcased Jeffrey Wright in the titular role, portraying the artist's rise from homelessness to fame.
- Basquiat's artworks and his iconic crown symbol have made appearances in various films and television shows as a representation of countercultural aesthetics and New York's vibrant art scene of the 1980s.
The critically acclaimed 2022 series Reservation Dogs sees character Bear (D'Pharaoh Woon-A-Tai) wearing a Basquiat t-shirt in the "What About Your Dad" episode in season 1.
Basquiat's Influence on Fashion
From the catwalk to the high street, Basquiat's iconic motifs have inspired countless brands across the world. The Basquiat estate, which was administered by Gerard Basquiat, the late artist's father, until his passing in 2013 is currently administered by the late artist's sisters, Jeanine Heriveaux and Lisane Basquiat, have brought his art to the masses. Famously, the artist used to be a fan of Versace suits that and he would walk in to their flagship New York store and walk out wearing the same-day purchase. High-end designers, including *Valentino* and *Gucci*, have integrated elements of Basquiat's paintings and motifs into their designs, emphasising the timeless allure of his artistry. Renowned fashion brands like *Comme des Garçons, Uniqlo,* and *Supreme* have also launched collections inspired by Basquiat's art. In 2009, producer and rapper Swizz Beatz collaborated with Reebok for their line of trainers inspired by the artist.
More recently, in 2023 Swiss watch brand Swatch, as part of their Art Journey collaborations with luminarie estates and museums including MoMA, Magritte, Louvre Abu Dhabi, Le Gallerie Degli and Uffizi launched a Jean-Michel Basquiat inspired watch. The latest capsule collection focuses on the New York artists' most iconic paintings from the early 1980s.
According to the company, "The Swatch x BASQUIAT collection is a vibrant capsule that pays homage to the boundary-breaking artist best known for his unconventional perspective. Within this collection are three watches, each highlighting one of Basquiat's most prominent works."
Basquiat's Influence on Art
Unsurprisingly, one can argue that Basquiat's biggest impact is within the world of fine art. Modern artists, from Shepard Fairey to Banksy, have cited Basquiat as an influence, with his raw and immediate style leaving a lasting mark on street art and beyond. One of the most obvious examples of a Banksy print is Banksquiat which uses the famous crown motif as a central part of the work. In 2023, the Basquiat inspired "Boy and Dog in Stop and Search" became one of the most expensive Banksy artworks to sell at auction.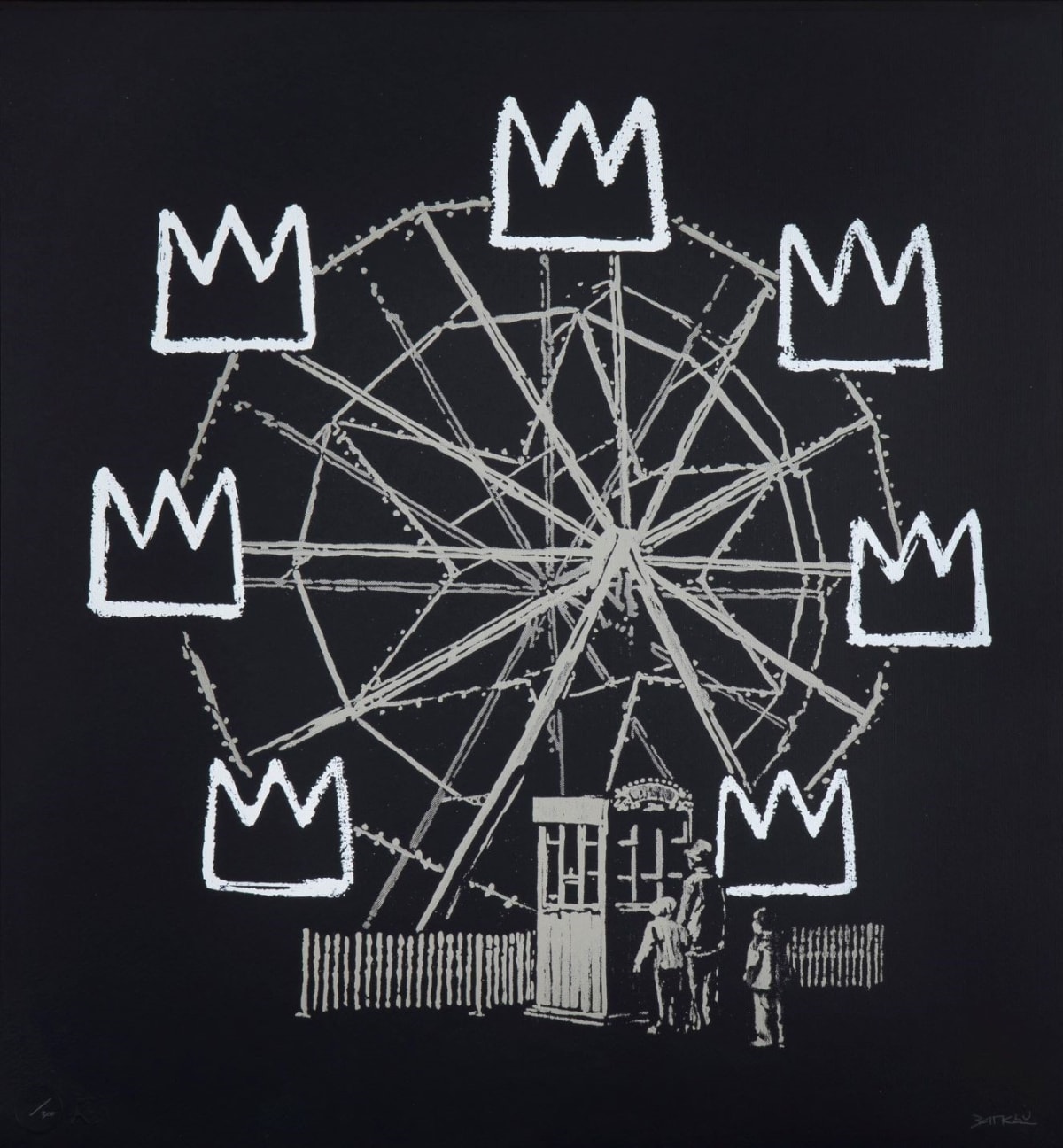 Major museums and galleries around the world regularly feature Basquiat's works, reaffirming his status as an art icon. His painting "*Untitled*" (1982) sold for a record $110.5 million in 2017, underscoring his enduring market appeal.
In 2015, rapper Drake curated an exhibition at Sotheby's exhibition 'I Like it Like This' which was a partnership exploring the connection between art and music.Viewers would walk up to Basquiat's 'Black' and 'Jazz' paintings, to hear Yo Gotti and 8 Ball's 'Gangsta Party' blast from Beats by Dre headphones that were provided.
The influence of Jean-Michel Basquiat in popular culture is undeniable. Decades after his untimely death, his spirit and art continue to reverberate through a myriad of mediums. His works become even more desirable with each passing year and are testament to his creative genius and fearlessness. Basquiat's legacy will remain a beacon of inspiration, innovation, and individuality. Discover our collection of authentic Jean-Michel Basquiat prints for sale or contact our gallery via sales@andipa.com or call +44 (0)20 7589 2371.