What is the most expensive Keith Haring artwork?
Over the last 40 years, Keith Haring's artworks have continued to set impressive prices at auction across the world. Bursting with primordial energy, his distinctive style captures the imagination of collectors worldwide.
Untitled, £5.0m GBP
Sotheby's New York, 2017
Appearing at Sotheby's Contemporary Art Evening Auction in New York in 2017, Untitled, produced in 1982, smashed it's auction estimate of $6m USD to become the most expensive Keith Haring artwork - setting a new world record for the Pennsylvania born street artist. The world brings together all of the classic Haring motifs and is an archetypal expression of his most popular icons including dogs, cartoon figures and religious iconography. The enormous three coloured painting can be read as a battle of good versus evil - notably the angel figures soaring over that of the crouched man.
Untitled, £4.9m GBP
Christie's in New York, 2022
Selling last year for £4.9m GBP, Haring's Untitled 1982 work is a colourful work that was produced in enamel and DAyglo on metal. A sense of vibrancy inhabits the piece which features an upside down figure almost falling onto the floor. Movement is added through his signature lines and the work is thought to have remained in New York for most of it's life - certainly befitting of an artist who embraced the city, its cultural life and is best associated with him.
Silence = Death, £4.4m GBP
Christie's in New York, 2019
Diagnosed in 1987 with aids, Haring went on to say "I don't know if I have five months or five years, but I know my days are numbered. This is why my activities and projects are so important now," Never one to stop working, Haring increased his output following his diagnosis and would travel across the world to cement his legacy through his murals. The work, arguably his most famous, features a pink triangle - a common symbol of gay pride - with silver figures covering their eyes and faces - a nod to the ignorance surrounding the disease at the time.
Untitled, 1984 £4.3m GBP
Christie's, 2021
Radiant yellow, thick blacks and burgundy combine in this expression of man vs technology. The central figure of the work is a computer resting on top of a pyramid and is flanked by worshippers in some sort of proto-religious ritual recalling an Aztec temple and indigenous ceremonies. Chaos abounds in the work that sold for £.3m GBP at Christie's in 2021. The work appeared at Haring's first solo show in Germany at Paul Maenz's gallery in Cologne in 1984. Indeed, the gallerist was so enamoured by the work that he purchased it for his own private collection
The Last Rainforest, £4.2m GBP
Sotheby's London, 2016
Selling for more than double it's estimate at Sotheby's London in 2016, the wok came from the collection of photographer David LaChapelle and has often been considered Haring's last great masterpiece.
A sense of urgency can be found in the work as the artist frantically tties to convey the pressing issue of climate change and deforestation in the Amazon. What makes this work so remarkable, like many of Haring's socially conscious pieces, is how relevant his message is some 40 years after his death.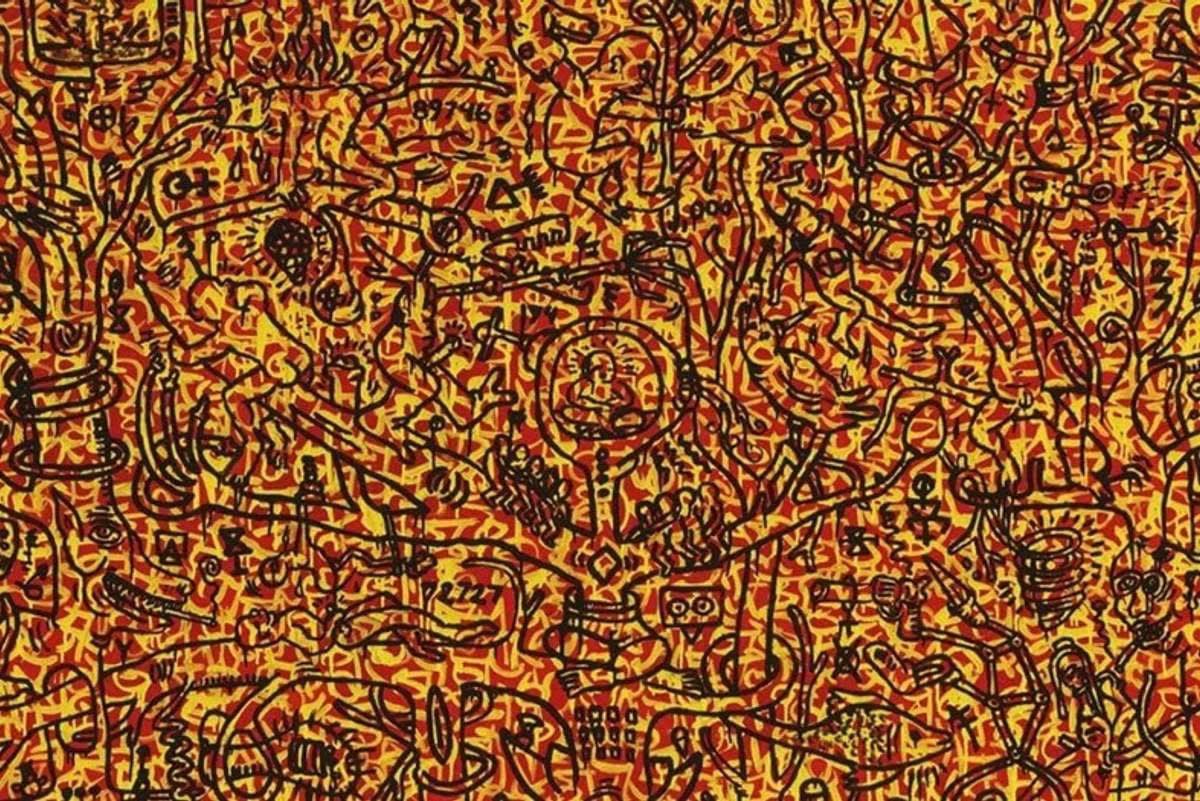 Untitled (Acrobats), £4.1m GBP
Sotheby's 2021
A gigantic work that spans some 182.9 x 487.7 cm, the monochromatic masterpiece sold for circa £4.1m GBP at Sotheby's in 2021. Featuring Haring's most beloved motifs - dogs, hearts and twisted futures - the piece shows the artist's innate understanding of composition and balance - despite an almost frenetic feeling of energy pouring from the sumi ink on paper canvas.

Untitled, 1986 £4.1m GBP
Sotheby's New York, 2021
Speaking of his painting process, Haring described being driven by "The idea of making the movements a kind of choreography - a kind of dance," and his Untitled (1986) is a poignant example of his ability to capture this sense of movement that he has become so well known for. The figures here seem to vibrate with energy, with their perfect tessellation ensuring the overall work is bustling but not overwhelming. It sold at Sotheby's New York for £4,111,178 on the 12th May 2021.
Self-Portrait For Tony, £3.6m GBP
Sotheby's New York , 2016.
A gift to his friend, mentor and art dealer Tony Shafrazi, Haring channels Royl Lichtenstein's distinctive Ben Day dots in the self-portrait. A wonderfully honest work, the portrait creates an intimate feeling and connection to the artist - an expression of friendship and openness. As stated by the Keith Haring foundation, "Keith decided to be represented by Tony Shafrazi,which freed him from the pressures of dealing his own work. But more importantly, representation allowed Keith to situate his artwork in the midst of large-scale cultural events.
His first one-man show at Shafrazi in 1982 included drawings, painted tarpaulins, sculptures, and on-site work; Keith also transformed part of Shafrazi's space into a club-like environment." The work sold for nearly double its estimate at Sotheby's New York in 2016.
Untitled, 1983 £3.5m GBP
Christie's, 2017
Haring was raised by religious parents in the small conservative town of Kutztown, Pennsylvania and religion would be a common theme that he would reference throughout his career. Here we see Haring using the Ancient Egyptian ankh cross - associated with life and fertility - as a central component to the 3m squared canvas. The work recalls his series "fertility Suite" which was used to draw attention to the prevalence of HIV infection among pregnant women in Sub-Saharan Africa.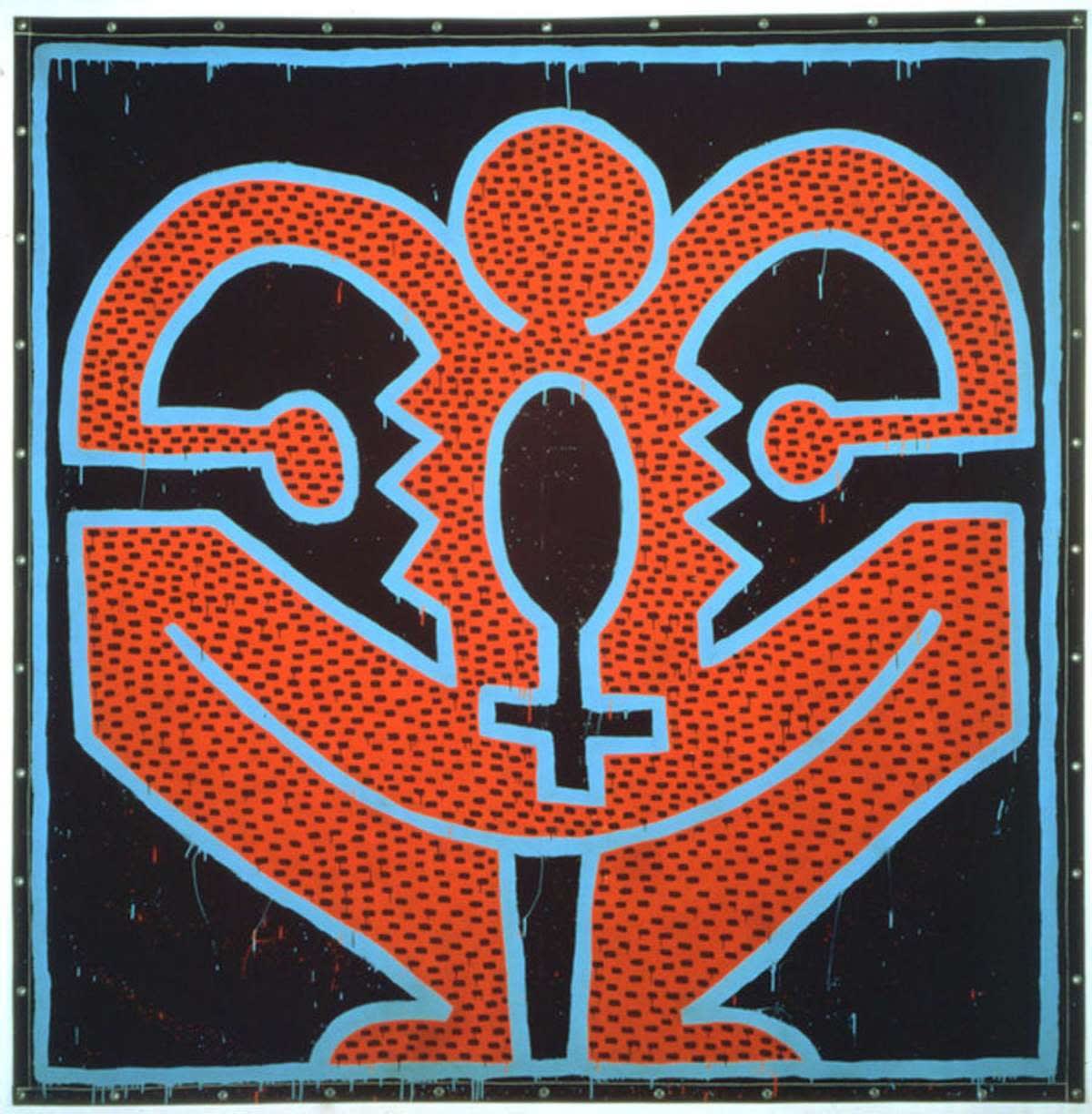 Sister Cities - For Tokyo, £3.4m GBP
Sotheby's New York, 2018.
The beautifully colourful Sister Cities was created in 1985 to celebrate the 25th anniversary of the twinning and friendship of New York and Tokyo. Haring would first visit the city in 1983 and would return throughout his career in the 1980's. The work sees the two cities as joined as one dancing and united together under one heart. Haring gifted the painting ot the Tokyo City Hall where it went through numerous owners before being sold at Sotheby's in New York on 14 November 2018.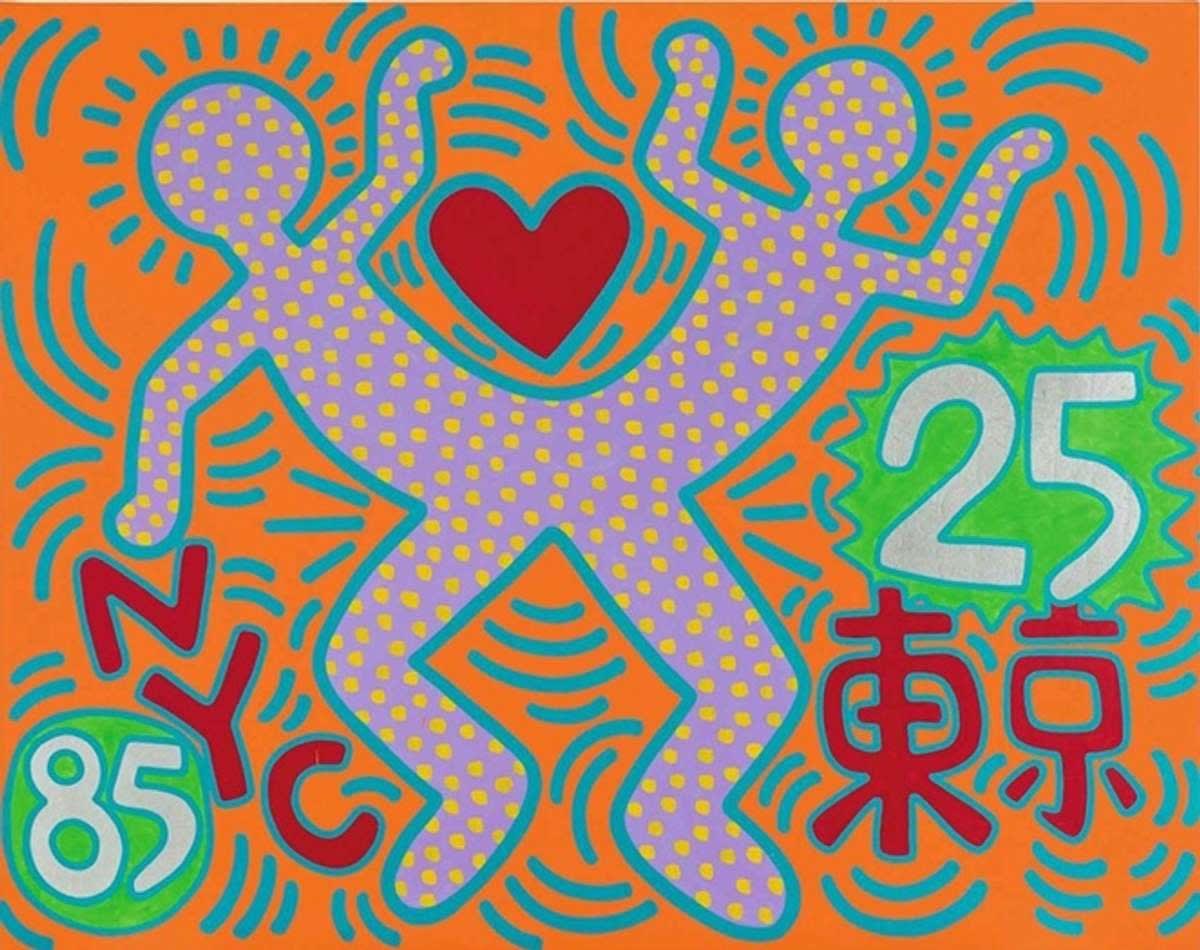 Untitled, 1983, £3.3m GBP
Bonham's, 2019
The stand out lot at Bonham's Post-War & Contemporary Art auction in 2019, the work sold for more than eight times that of the second most expensive artwork of the night. Created in 1983, the work is a prime example of Haring's more sexually charged pieces. Acquired initially by Italian gallerist Salvatore Ala, the work is noted for its comic and colourful nature.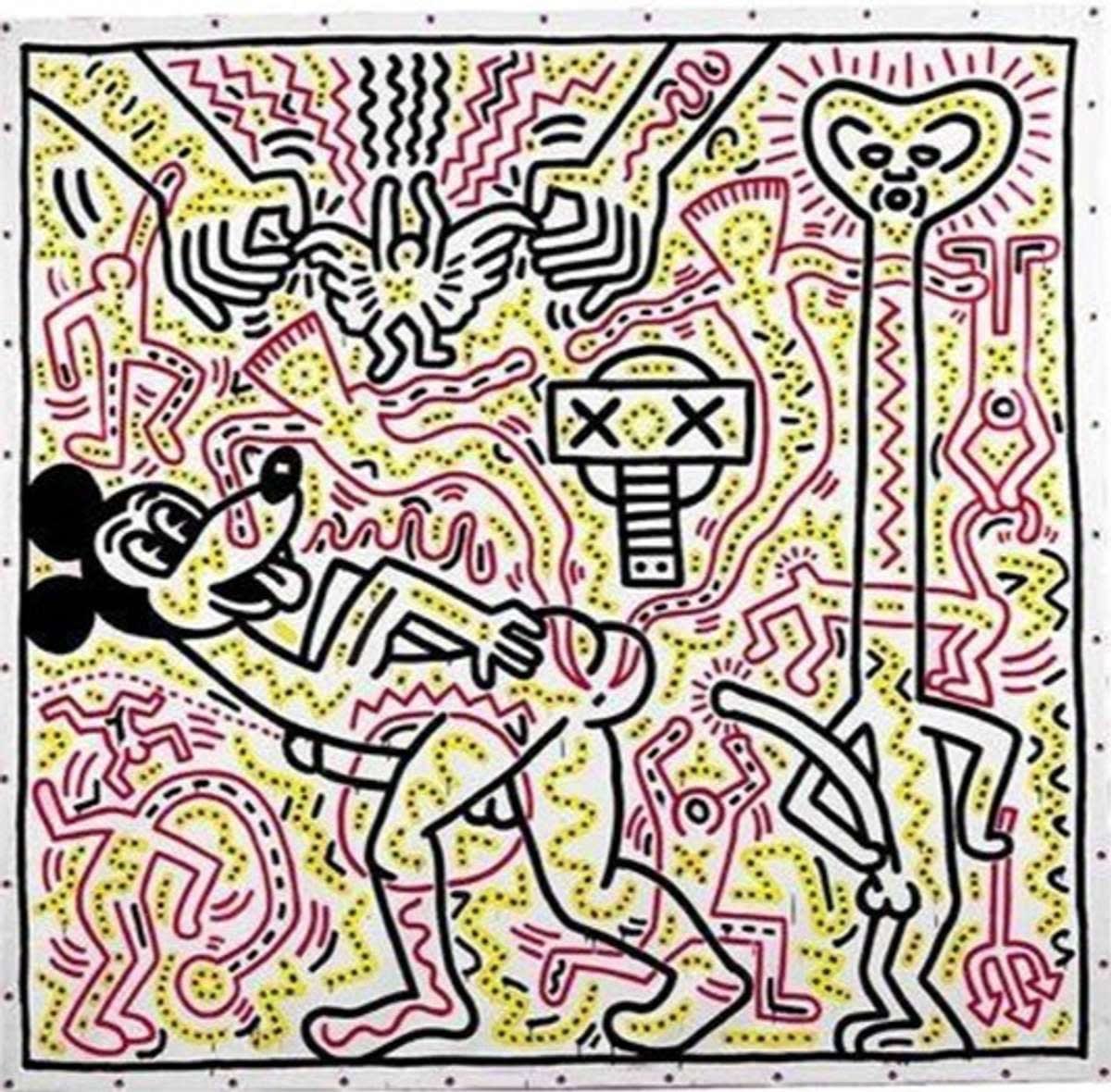 Untitled, 1986 £2.9m GBP
Sotheby's New York, 2014
Channelling almost an ancient Greek style urn, we see headless figures contorting and surrounded by mythical beasts. The highly detailed work was said to be inspired by a combination of science fiction and a nuclear apocalypse. In the work we see giant figures struggling against a backdrop of kinetically charged movement. The work sold for £2.9m GBP at Sotheby's New York in 2014.
£2.7M for Untitled (Dancing Dogs)
Sotheby's New York, 2014
Spanning nearly 16 feet wide, the mammoth work shows two of Haring's most popular motifs - dogs - dancing to a backdrop of human figures. One of his earliest canvases to present the theme, the work has a loose, explosive feeling as show by the dripping paint and energetic line work. The colourful piece sold for £2.7m GBP at Sotheby's in New York in May 2014.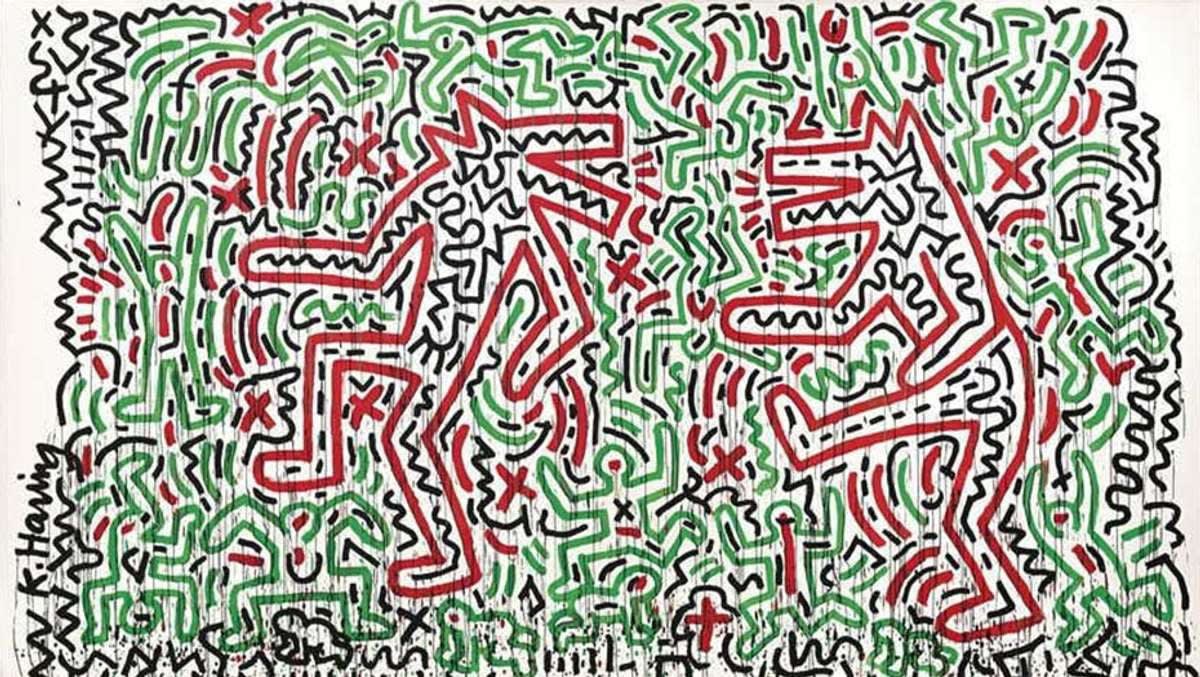 Discover our collection of
Keith Haring original art for sale
or speak to our team to
buy Keith Haring prints
via
sales@andipa.com
or call +44 (0)20 7589 2371.