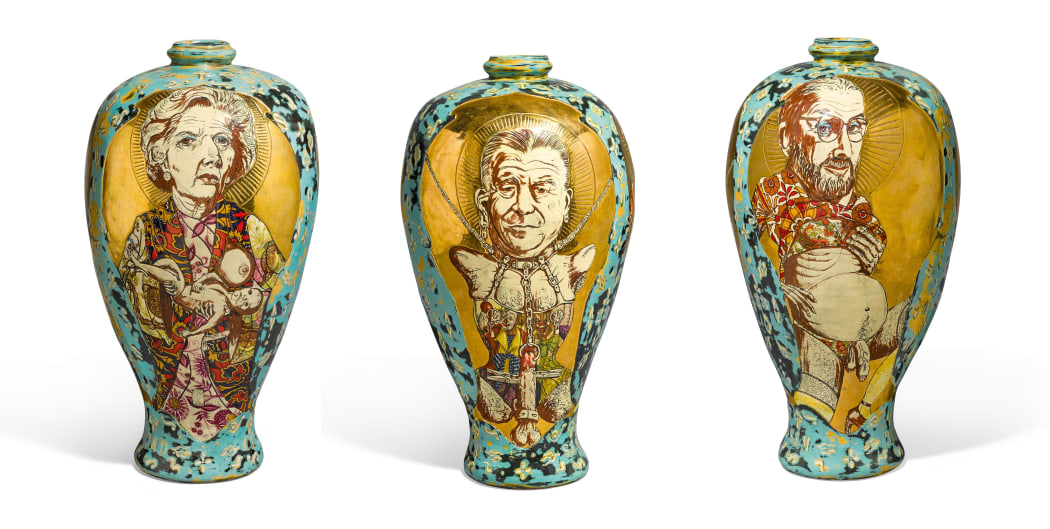 What is the most expensive Grayson Perry artwork?
"I want to be an Artist" £632,750 GBP
Christies, 2017
A master of mediums, Grayson Perry has been a central figure within contemporary British art for over three decades. A Turner Prize winner, the most expensive Grayson PErry artwork to sell at auction was one of his famous ceramics, "I want to be an Artist" which sold for £632,750 at Christie's London in October 2017, An early work and a homage to Jean-Michel Basquiat and Andy Warhol, the yellow ceramic vase was created using a photo transfer. The work represented and important departure within British ceramics as Perry takes an ancient form and combines it with well known figures and bright, cheerful colours.
The Guardians, £443,250 GBP
Christie's, 2019
Perry has referred to The Guardians as a "literally autobiographical work" and is a pair of decorative vases that are both moving and deeply personal. The works tell of Perry's mother and step-father, notably two figures in his life with whom he has widely spoken of having difficult relationships with. Reportedly telling the story of his childhood difficulties and traumas, the works became the second most expensive Grayson Perry artwork when they sold for £443,250 at Christie's London on 4th October 2019.
Barbaric Splendour, £224,750 GBP
Christie's, 2018
According to the artist, 'Barbaric splendour is a phrase I read in Ernst Gombrich's book A Sense of Order. It comes from Greek oratory: if somebody was a bit flashy and prone to theatrical language, the orators would frown on it, calling it "barbaric splendour". They thought that speaking plainly was a higher achievement and looked down on other cultures that were more inclined to sensuous pleasures' The lot essay that accompanied the work at Christie's summarises the vase as "Executed in 2003, Barbaric Splendour was included in Grayson Perry's Turner Prize exhibition that year, where he became the first ceramic artist to win the award. It is a compelling example of his use of pottery as a vehicle for social commentary. Looking back to Greek and folk art traditions, the classical forms of Perry's vases become contradictory vessels fused with contemporary narratives, documenting his own biography, sociological realities and current political issues through coarse, satirical humour." The work ended up selling for £224,750 at Christie's London on March 6th 2018 and showcases in atypical Perry fashion and exploration into society and class.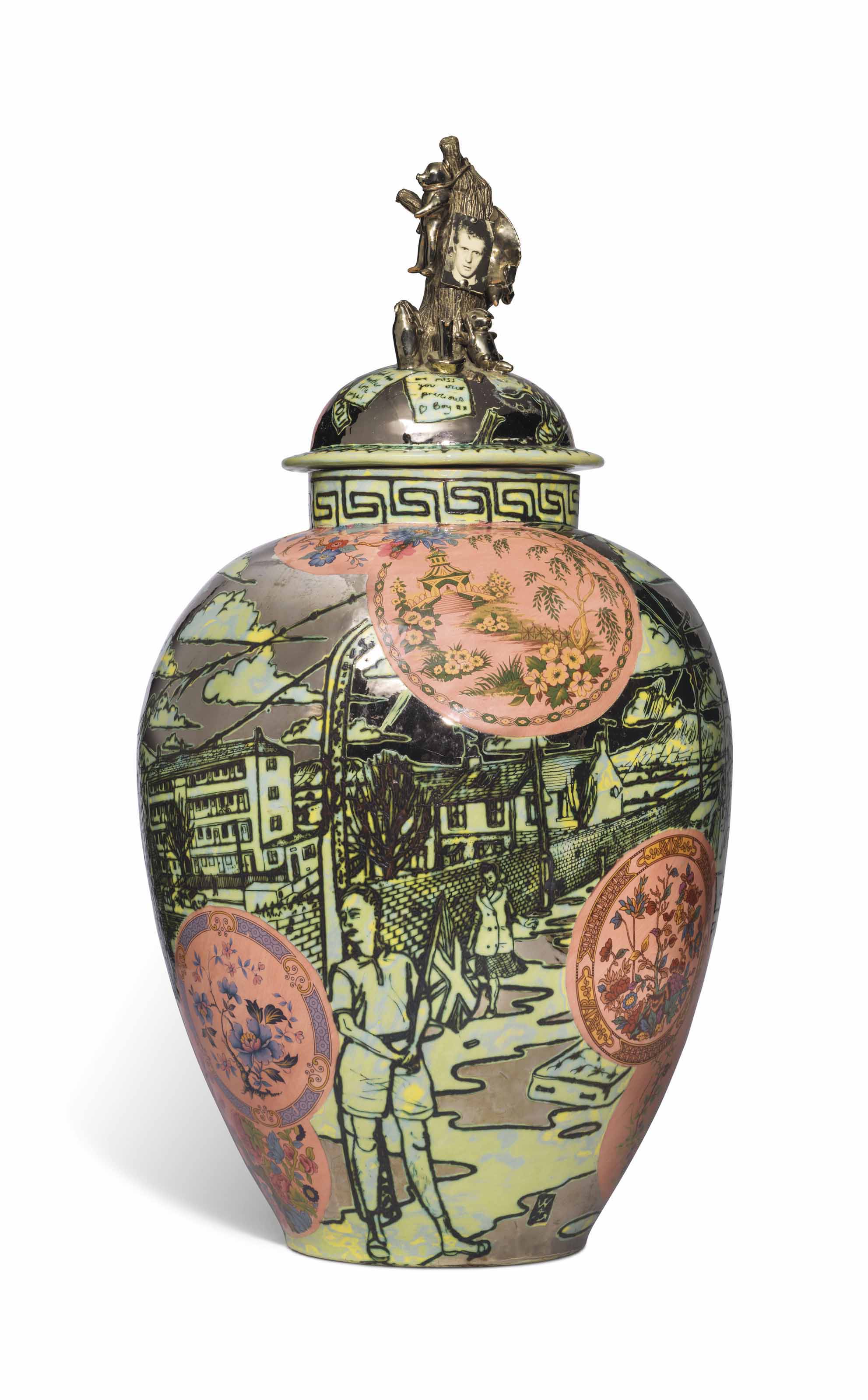 Saint Claire 37 Wanks Across Northern Spain, £200,000 GBP
Christie's, 2017
Esteemed Art Critic Waldemar Januszczak has described the work as, 'This is what [Perry] is best at: nimble social observation laced with sardonic knowingness. He's a sarky collector of telling details who uses humour as his primary weapon … The DNA of this quintessentially British cheekiness can be traced back to Hogarth ... Like Hogarth, Perry uses humour as both a weapon and a delivery system connecting him to the bigger audience he seeks to address'. Produced in the same year that Turner won the Turner Prize, the work is said to explore the evils of society.
This outstanding example of Perry's ceramic stands at over 1m tall and depicts the artist's transvestite alter-ego Claire amidst a collage of imagery inspired by his cycling trip in northern Spain. The work draws in elements of sex work, religion and our presuppositions about art history and sold for £200,000 at Christie's London on 6th October 2017.
Emotional Landscape, £187,500 GBP
Christie's, 2018
Created in 1999 and first exhibited at the Stedelijk museum in Amsterdam, Emotional Landscape was created as a protest against the expansion of the M11 as it would affect Perry (his studio being based in Leytonstone).
Selling for £187,500 at Christie's London on 12th February 2020, the phrase "No More Art" grabs our attention whilst brightly coloured elements including flags, tents and make-shift dwellings jostle amongst each other. As with many of his ceramics, the work is a deeply personal reflection and take on social issues that directly affect Perry and the world around him.
Oiks, Tarts, Weirdoes And Contemporary Art, £175,000 GBP
Sotheby's, 2018
Described in the lot catalogue as "With wry humour, a frequently satirical viewpoint, and an astonishing imaginative flair, Perry's pots satirise and unpick art historical reverence, pastiche his contemporaries, and explore universally relevant subjects about social status, gender, sexuality and religion. Incorporating Perry's trademark array of provocative contemporary references, as the title suggests, Oiks, Tarts, Wierdoes and Contemporary Art depicts a medley of incongruous characters from different social backgrounds" The work showcases a perfect example of combing social commentary with the quotidian nature of pottery the work has been previously held in the Saatchi Collection and Lawrence Delaye gallery. Oiks, Tarts, Weirdoes and Contemporary Art sold for £175,000 at Sotheby's London on 7th March 2018.
Golden Ghosts, £175,000 GBP
Christie's London, 2019
Eerily beautiful, Golden Ghosts featured in Perry's Turner Prize Exhibition of 2003 and features little girls with unhappy faces which contrast with the idyllic country cottages in the background. Creating tension and a sense of sadness there is an autobiographical element of Perry in the work with his transvestite alter ego, Claire, who appears outlined in gold as the ghost in the title, dressed in the elaborate embroidered Coming Out Dress, made for a performance in 2000. Golden Ghosts sold at Christie's London on 2nd October 2018, the vase brought in £175,000.
Balloon, £163,800 GBP
Christie's London, 2022
Sardonic wit and dry humour combine in Balloon which sees Perry present a fantastical historical saga withNicholas Serota as the pope, Charles Saatchi as the emperor and Michael Craig-Martin as a saint, surrounded by established galleries like Victoria Miro and White Cube. The vase went for more than double its lower estimate and would sell for £163,800 on 1 July 2022 at Christie's London.
We've Found The Body Of Your Child, £156,250 GBP
Christie's London, 2018.
A controversial work, the piece combines folkloric visual elements with themes of childhood neglect and trauma. An intense piece, the work explores how children are not treated fairly or as equals. On the work, Perry recalls, "'I was looking, too, at a number of Brueghel paintings, including the Hunters in the Snow, whose composition provided the inspiration for this pot. I wanted ambiguity, so there's a woman with the dead body of her child in front of her, surrounded by figures, some of whom look like soldiers. Is she being arrested, or is she being comforted? I also had in mind the Tom Waits song 'Georgia Lee', a ballad sung by a father for his child who is found dead in the woods."
Sunset Through Net Curtains, £150,000 GBP
Phillips London, 2019.
Produced in 1996, the lot essay for the work describes, "In Sunset through Net Curtains layers of metallic glaze and natural motifs are interspersed, transposing images from historical paintings and contemporary sporting culture onto a traditionally shaped vessel. While the surface of the object appears innocuous, presenting blooming flowers in a delicate palette, upon closer inspection curious emblems and personal references emerge." The early work sold for £150,000 at Phillips London on the 7th March 2019.
Love Letters, £150,000 GBP
Sotheby's 2020
In this work, Perry takes three emblematic British figures Salman Rushdie, Margaret Thatcher and Noel Coward - and turns them into macabre depictions of themselves. The figures are morphed and transformed into raw, grotesque images who contrast with the ornate style of the vase. Exploring the complexities and classes that inhabit our society, the work dols for £150,000 at Sotheby's London on the 11th of February 2020.
Discover our collection of Grayson Perry prints and Grayson Perry ceramics for sale and contact Andipa Editions via sales@andipa.com or call +44 (0)20 7589 2371.