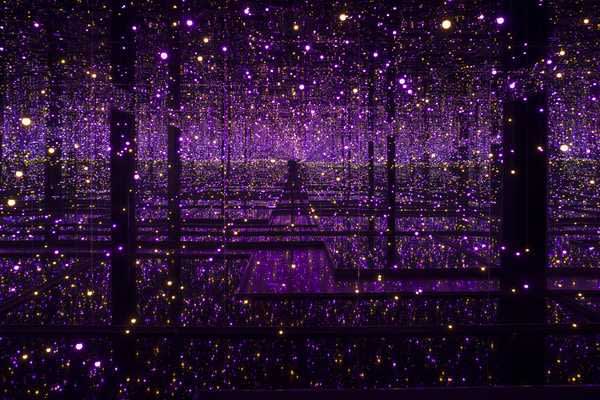 The exhibition, set to open at Tate Modern, offers a chance to immerse oneself in the enchanting world of Kusama's artistry. Members get a sneak peek from May 18, while the general public eagerly anticipates the doors to open on June 14. Given the expected demand, booking early is strongly recommended, as it promises to be quite a frenzy.
Within this exhibition, two of Kusama's renowned mirror rooms take center stage. First, there's the Chandelier of Grief, a relatively compact yet undeniably captivating installation. Then there's the pièce de résistance, the Infinity Mirrored Room - Filled with the Brilliance of Life, one of Kusama's most expansive creations to date. These mirror rooms allow for a maximum of four visitors at a time, granting them two minutes to bask in the immersive experience.
The Chandelier of Grief, though striking and incredibly Instagram-worthy, maintains an air of austerity, with a central chandelier endlessly reflecting brilliant light. Two minutes are adequate for this enchanting installation. However, the real magic lies in the second room. Here, strings of lights that change color dangle from the ceiling of a dark mirrored chamber, with gentle, rippling water at your feet (rest assured, there's a path to follow). Moments of pitch darkness are intermittently interrupted by the return of shifting, twinkling lights that seem to stretch endlessly in every direction.
The longer you gaze into this captivating abyss, the more layers of depth and distance you discern. You almost feel as though you could vanish into this mesmerizing space, but the presence of mirrors always reminds you of your corporeal existence. Each glimpse of your own reflection amidst this ethereal landscape is a subtle reminder of your presence, yet this captivating experience holds you in its thrall. One could easily lose track of time, as it feels like navigating through the most serene video game.
In addition to these main attractions, the curators have thoughtfully assembled a captivating narrative that traces Kusama's remarkable life journey.
It begins with her childhood in Matsumoto, Japan, and unfolds through her arrival in America in the late 1950s. Her pioneering and unconventional work, which received minimal attention until much later in her life (now in her 90s, she voluntarily resides in a psychiatric institution in Tokyo, where she continues to create art), is highlighted. The exhibition sheds light on Kusama's experiences with hallucinations—often terrifying incidents that have plagued her since her early years, inducing a sensation of self-obliteration. It is truly remarkable that out of this trauma, she has consistently crafted uplifting and emotionally resonant art.
Photographs on display capture her as a solemn-faced child, a determined young girl surrounded by bold, organic-looking drawings, a dynamic young woman seamlessly becoming a part of her work, and an uncompromising older artist entirely comfortable in her idiosyncrasies. Clips from her 1966 Walking Piece, where she navigates the streets of New York in a pink kimono with a parasol, reveal an artist unafraid to confront the racism and sexism of the city. Meanwhile, a new sculpture, The Universe as Seen from the Stairway to Heaven, presents a peep-show arrangement of holes and mirrors, delving into Kusama's hallucinatory experiences and leaving visitors pondering the acquisition of an office kaleidoscope for moments of high stress. Prepare to be utterly captivated.
Explore our collection of signed Yayoi Kusdama prints and contact Andipa Editions via sales@andipa.com or call +44 (0)20 7589 2371.
Infinity Rooms runs until the 28th of April 2024 at the Tate Modern.