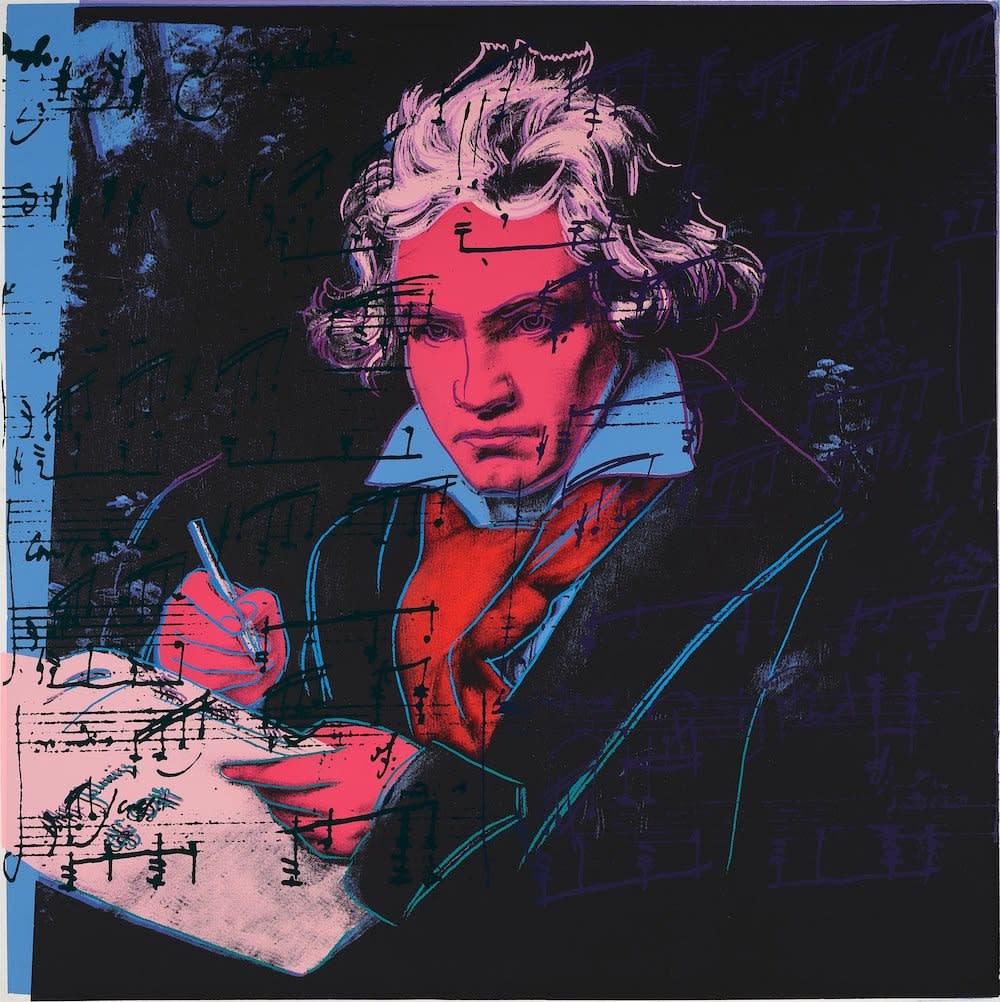 "Every song has a memory; Every song has the ability to make or break your heart, shut down the heart, and open the eyes." – Andy Warhol
Warhol was fascinated by celebrity culture, and the world of music provided him with a rich source of iconic figures. He created portraits of famous musicians such as Elvis Presley, Marilyn Monroe, and Mick Jagger. These portraits were often characterised by bold colours and repetition, reflecting the repetitive and mass-produced nature of pop culture.
It wasn't just the realm of high-art where music collided with the inevitable Warhol maschine. Warhol was involved in creating album cover art for several music artists, including The Velvet Underground. His famous banana design for the band's debut album, "The Velvet Underground & Nico," is an iconic example of his fusion of art and music. The cover art became an integral part of the album's identity. He was interested in blurring the lines between different art forms, and he often engaged with musicians and performers in his studio, The Factory. Collaborations with musicians like The Velvet Underground and events like the Exploding Plastic Inevitable, which combined music, film, and performance art, showcased his interest in the fusion of different art forms.
Warhol's output can be seen as a commentary on consumerism and mass production, themes that were also prevalent in the music industry. The mass production of records and the commodification of music played into Warhol's critique of consumer culture.
Beethoven
In his Beethoven series, Andy Warhol transformed one of history's most celebrated composers into a Pop art icon. The vibrant and expressive colours and forms in Warhol's screenprints mirror the musical tumultuousness of Beethoven's compositions.
The Beethoven portfolio, consisting of four screenprints published in 1987, pays homage to the renowned German composer. Each piece in the collection presents an intensely saturated portrait of Beethoven originally painted by Joseph Karl Stieler, with musical notes superimposed on the prints. Warhol's dynamic interplay of colour and form captures the essence of Beethoven's musical innovations.
While earlier in his career, Warhol painted portraits of socialites and celebrities, the 1980s marked a period in which he grappled with portraying some of history's most influential figures in the arts, including Goethe (1982) and Alexander the Great (1982). What binds these figures together is their cultural transcendence and boundary-breaking contributions. In a daring departure, Warhol adorns Beethoven with pastel pink hair and fuchsia skin, bestowing upon him a modern legacy more akin to a rockstar than an 18th-century composer.
These distinctive and rare historical portraits challenge the notion that Warhol's most famous works, such as Soup Cans, Brillo boxes, and Marilyns, were his sole preoccupations. Instead, Warhol delved into the rich tapestry of history, seeking inspiration from the annals of the past to understand the influences shaping the psyche of modern society. Explore the Andy Warhol Beethoven Portfolio (F & S II.390-393) for sale.
Mick Jagger
'Mick Jagger is the rock star with the longest running image. He's the one all the young white kids copy. That's why every detail of his appearance is important.' Andy Warhol
In 1975, Andy Warhol created a remarkable portfolio of ten screenprints featuring the iconic Rolling Stones frontman, Mick Jagger. This collaboration between two countercultural giants, one from the world of art and the other from music, significantly elevated both of their careers.
Each portrait within the series captures Jagger in a different pose and distance from the viewer, exuding a dynamic energy that mirrors the star's electrifying stage presence. What makes these works particularly noteworthy in Warhol's oeuvre is that instead of appropriating existing images, as he did with Marilyn Monroe and Jackie Onassis, he started with photographs of Jagger himself and then modified them. This departure from using "found" imagery infuses these portraits with a more palpable sense of Jagger's personality. Warhol's ingenious use of mixed media, incorporating photography, drawing, and screenprinting, adds to the vibrancy of the artwork.
The authenticity and vitality of this portrayal may be attributed to the genuine friendship shared by the two men. Warhol and Jagger first crossed paths at a New York City party in 1964 during the Rolling Stones' inaugural U.S. tour. Warhol even designed the album cover for the Stones' "Sticky Fingers" in 1971. By the time he created this series, their friendship had spanned over a decade.
Warhol's Mick Jagger portraits both align with his broader collection of portraits and stand out as distinctive pieces. Unlike most of his other portraits, such as Marilyn Monroe, where the focus was on the face and neck, Jagger is depicted shirtless, emphasising his physique. Warhol even zooms in on details like Jagger's body hair, adding a raw, unfiltered quality to the images. This approach underscores that, much like his female muses, Jagger was also considered a sex symbol and a symbol of male glamour. As Warhol himself reflected, "Mick Jagger is the rock star with the most enduring image. He's the one all the young white kids imitate. That's why every aspect of his appearance matters."
Each portrait bears the signatures of both Warhol and Jagger, highlighting the truly collaborative nature of this work and appealing to fans of these two iconic figures of the 20th century. Discover the Andy Warhol Mick Jagger (F & S II.138-147) for sale.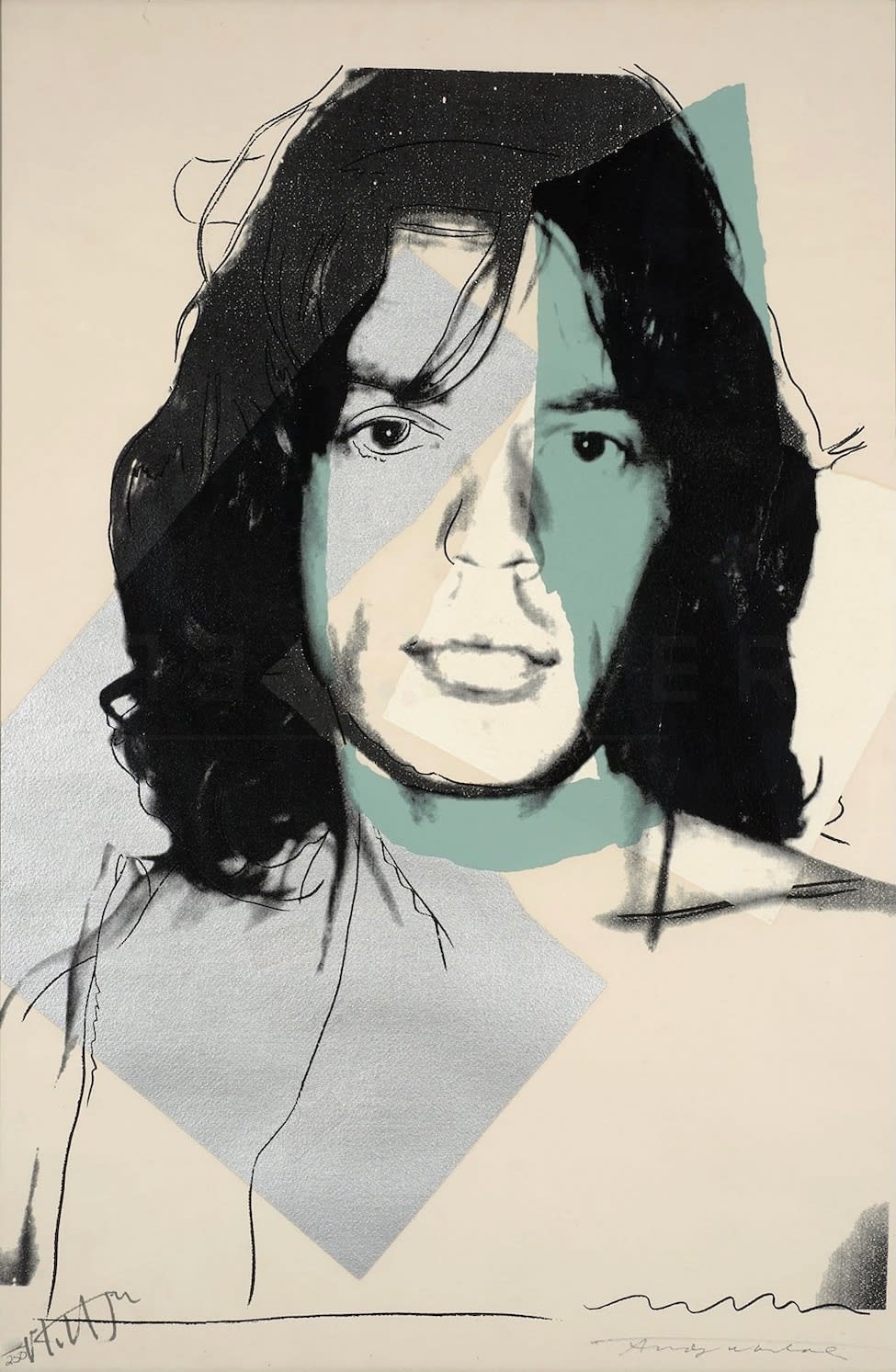 The Velvet Underground & Nico
The Banana screenprint, created in 1966, stands as one of his most iconic works. Its recognition extends beyond Warhol himself, owing to its prominent appearance on the album cover of The Velvet Underground & Nico.
In this print, Warhol's screenprinting technique is on full display. The bold yellow-and-black banana, characterised by the imperfections in ink distribution, carries a striking graphic intensity. Just as he had previously done with the Campbell Soup can a few years earlier, Warhol once again elevated the ordinary into the realm of art. The banana image is not only printed onto laminated plastic but also onto styrene—a type of sticker that allows for placement and repositioning.
The association between the Banana and one of the most groundbreaking rock bands of the 1960s became so inseparable that it led to a legal dispute over the image's ownership. This underscores how Warhol's creations often seemed to develop a life and significance of their own, transcending their initial artistic intent. Read more about Andy Warhol Banana (F & S II.10).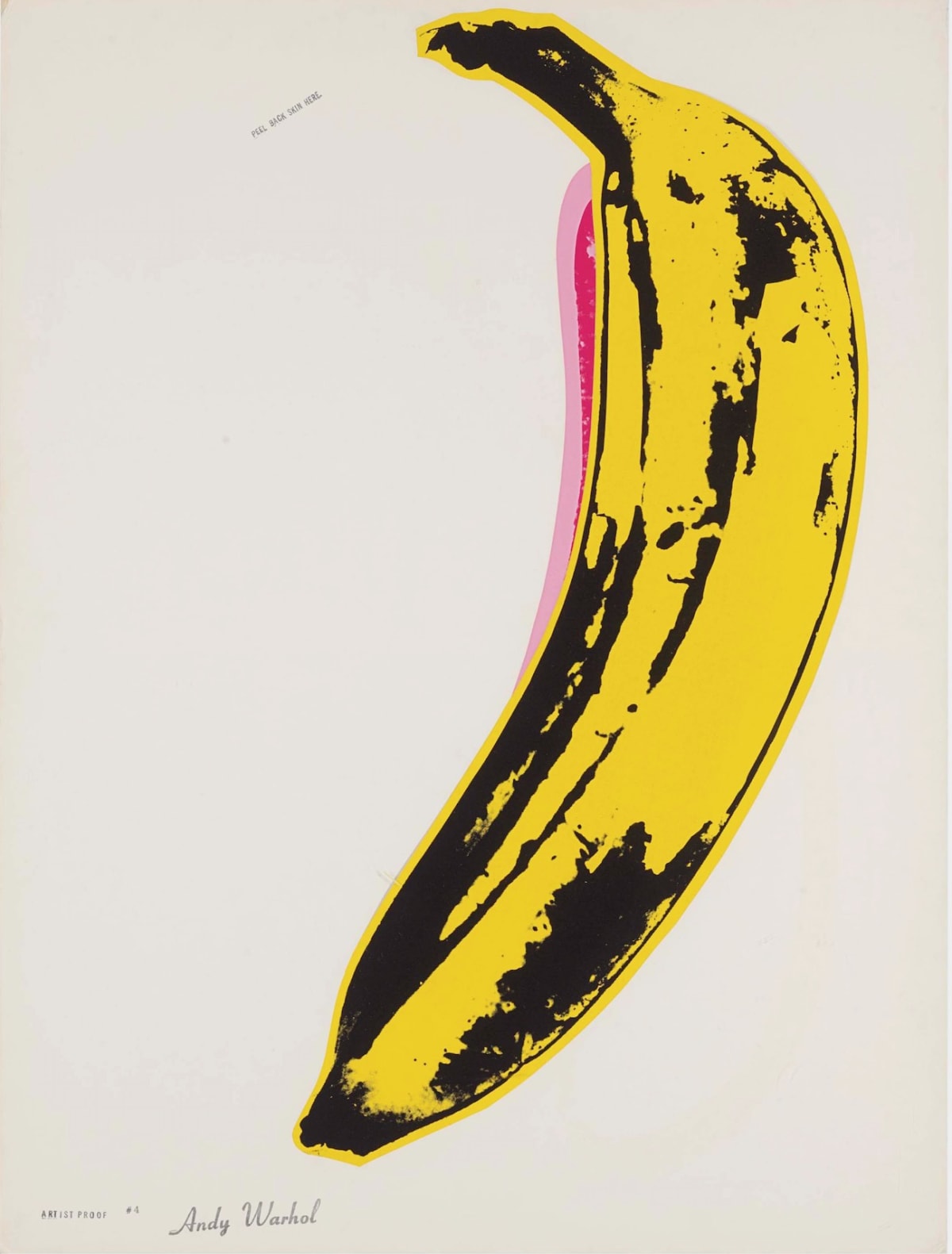 John Lennon - Menlove Avenue
The album cover for John Lennon's "Menlove Ave." was inspired by a combination of factors related to Lennon's life and artistic choices at the time. "Menlove Ave." is a posthumous compilation album of unreleased Lennon recordings and was released in 1986, six years after his tragic death in 1980. Here are some key influences on the album cover:
The title refers to Menlove Avenue in Liverpool, where John Lennon grew up. The album cover features a black-and-white photograph of Lennon as a child standing outside his childhood home on Menlove Avenue. This choice reflects the album's focus on Lennon's early years and his connection to Liverpool.
Menlove Ave." is a compilation of previously unreleased tracks that span Lennon's career, from his time with The Quarrymen to his solo work. The album cover's nostalgic image of young Lennon suggests a reflection on his life and musical journey, making it a fitting choice for a posthumous release.
The cover art captures a personal and intimate moment from Lennon's childhood, emphasising his connection to his roots and the music that emerged from that environment. It provides a glimpse into the origins of the musical genius that he would become.
In 1986, Yoko Ono oversaw the release of John Lennon's second album, "Menlove Ave." The cover art for this record was designed by Andy Warhol, and it was created just a few months before Lennon's untimely death. The album's tracks were recorded during the sessions for his other albums, "Walls and Bridges" and "Rock 'N' Roll."
Andy Warhol and John Lennon had formed a close friendship after being introduced by Yoko Ono, a renowned Japanese-American artist. During the 1970s, the trio were well-acquainted and part of the vibrant New York social scene. Yoko Ono's connection was so significant that she was even invited to speak on their shared experiences.
Discover more of our Andy Warhol signed prints for sale and contact Andipa Editions via sales@andipa.com or call +44 (0)20 7589 2371.