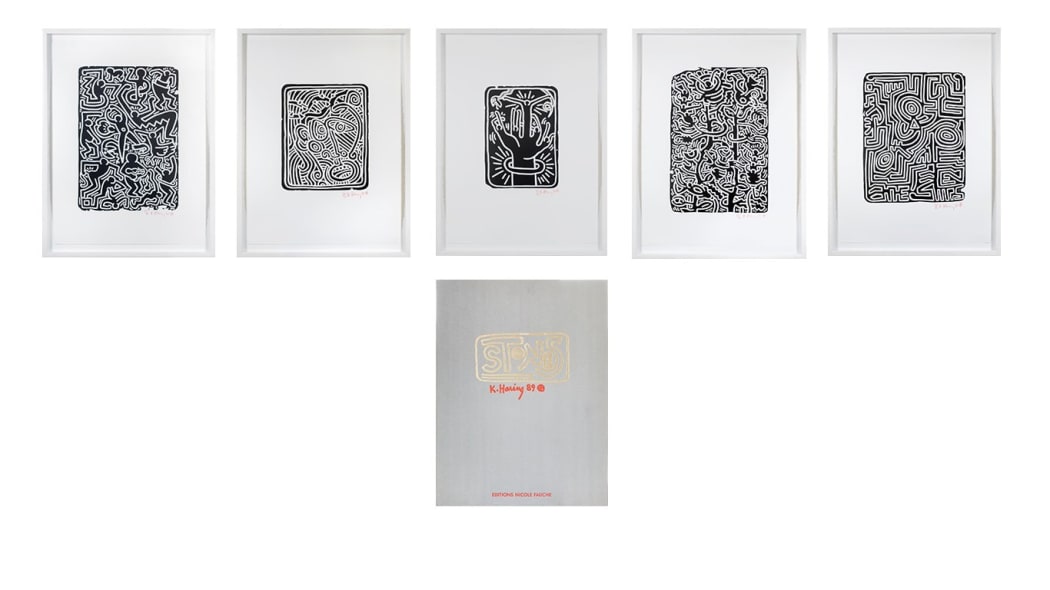 At first glance, reproducing his simple yet iconic motifs, like crawling babies or barking dogs, may seem like a straightforward task. However, Haring's artistic brilliance extended far beyond these seemingly uncomplicated images. He possessed the unique ability to elevate cartooning to the status of fine art, displaying mastery in creating entire compositions with a single, uninterrupted line. His Subway Drawings, which captivated New York City's subway riders in the 1980s, exemplified the pinnacle of graffiti art and served as the foundation for his extensive body of work, especially his prints.
Between 1982 and 1990, Keith Haring produced a substantial collection of graphics, mirroring the dynamic and pop art experience found in his paintings and drawings. Alongside fellow artist Jean-Michel Basquiat, Haring seamlessly transitioned street art into the gallery scene. However, as Haring's work gained recognition and value, the authenticity of his pieces became a matter of increased scrutiny. Whether you are a seasoned collector or a first-time buyer, ensuring the authenticity of a Keith Haring artwork is crucial. Here is a checklist to consider before making your purchase, enhancing your appreciation of your new print and providing confidence in your investment.
Original Print vs. Poster
Verify that you are buying an original print, not a poster. Keith Haring produced numerous posters, many of which possess artistic integrity. While posters can be enjoyable additions to your collection, owning an original print, signed and numbered by the artist, brings a unique presence and investment value into your space.
Pricing
Be cautious of deals that seem too good to be true. In the art market, there are rarely genuine bargains. A legitimate Keith Haring print in excellent condition should be priced in line with recent auction sales. Suspicion should arise if you come across a Haring print offered at half or even three-quarters of its actual retail price. With the internet's wealth of information, conducting pricing research is now more accessible than ever.
Reputable Online Art Platforms
When purchasing art, especially from an artist like Keith Haring, known for the prevalence of counterfeit works, consider buying from reputable online art platforms. These platforms meticulously vet their prints, ensuring authenticity and providing verifiable provenance. Ask questions to the seller if needed, as a trustworthy online platform will facilitate communication between the buyer and seller.
Signature
Keith Haring's signature has been a subject of controversy due to its ease of reproduction. While it's essential to scrutinise the signature, focusing on the image's correctness is often a reliable indicator of authenticity.
Provenance
Carefully examine the provenance of the print. Ideally, your print should originate from a gallery closely associated with Keith Haring's work. Haring exhibited extensively during his short life, making labels from galleries like Tony Shafrazi Gallery, Michael Kohn Gallery, and Leo Castelli Gallery highly desirable. Commercial galleries, while less prestigious, can still indicate authenticity.
Print's Basics
Haring's prints were typically signed and numbered. Ensure that your print aligns with the correct edition size, signature placement, and dimensions. Beware of prints with incorrect edition numbers, fake references to artist proofs, or unauthorised additions like "New York" in the bottom margin.
Catalogue Raisonné
A valuable resource for serious Keith Haring print collectors is the book "Keith Haring Editions on Paper 1982-1990," although it is currently out of print. This catalogue provides insight into Haring's entire oeuvre of graphics, aiding in your understanding and appreciation of his art. Explore our Keith Haring guide which details his entire print releases from 1982-1990.

In conclusion, investing time in research and careful examination is essential when considering a Keith Haring print purchase. By adhering to these guidelines, you can enhance your art collection and ensure that your acquisition is a genuine representation of this iconic artist's work. Explore our collection of

Keith Haring signed prints for sale

and contact

sales@andipa.com

or call +44 (0)20 7589 2371. Alteraitvely, explore our collection of original Keith Haring paintings for sale.