David Hockney, a celebrated artist and painter, is also known for his innovative work in printmaking, which has evolved with changing technology. Hockney's fascination with new mediums and his ability to adapt to them has been a driving force in his artistry.
Hockney's journey into printmaking began during his time at Bradford College of Art, where he explored techniques such as etching, lithography, and aquatint. These early experiments left a lasting impact on his artistic practice and visual style.
Determining the Value of David Hockney Prints
In 2022, signed limited edition David Hockney prints ranged in price from approximately £1,000 to £504,000 at auctions. Notably, a top-selling print was "The Arrival of Spring in Woldgate, East Yorkshire in 2011," part of a limited edition of only 10, which fetched £504,000 at a Phillips auction in March 2022.
The value of Hockney's prints can vary based on several factors, including the edition size, rarity, condition, and provenance. Market trends can also be influenced by factors such as the artwork's popularity, recent exhibition appearances, and enduring appeal. Hockney's early series, such as "A Rake's Progress," holds historical significance and may be particularly attractive to collectors with a connoisseur's interest.
Types of David Hockney Prints Available
Before diving into collecting David Hockney prints, it's essential to become familiar with his diverse body of work. Hockney's print portfolio includes etchings, lithographs, homemade prints, iPad drawings, and prints based on his iconic paintings and photographs. Your personal preference for specific artworks should guide your selection. Hockney's subjects range from landscapes to still life, portraits of family, friends, and pets, as well as pieces inspired by masters like Hogarth and Picasso.
In his early printmaking days, Hockney focused on etching, lithography, and aquatint. One of his most renowned works from this period is the portfolio "A Rake's Progress" (1961-63), which drew inspiration from William Hogarth's paintings and Hockney's first visit to America.
Hockney's lithographic work expanded during his time in California. In 1979, he collaborated with Gemini G.E.L to create a portfolio featuring portraits of friends Ann Upton and Celia Birtwell.
In the mid-1980s, Hockney pioneered a unique printmaking method outside traditional studios, using photocopiers, fax machines, and computers for his "Home Made Prints" series. This innovative approach allowed him to work with speed and responsiveness similar to painting.
Between 2009 and 2012, Hockney embraced technology further, creating over a hundred prints using his iPhone and iPad, capturing the changing seasons and landscapes of Yorkshire.
Popular David Hockney Prints:
While Hockney's prints based on his classic paintings remain perennially popular, his more recent works have also gained significant acclaim.
Moving Focus Series
Shortly after moving to California in the mid-1970's David Hocknet established a close working relationship with esteemed printer Kenneth Tyler. With Tyler, Hockney created one of his most beloved series: Moving Focus.Blending a Renaissance style fixed-viewpoint painting with the aesthetic of varying, multiple viewpoints - the series uses exaggerated perspective and foreshortening to create dramatic scenes that question typical, western composition. Examples include the Tyler Dining Room, Amaryllis in Vase, Pembroke Studio Interior and, most famously, The Perspective Lesson.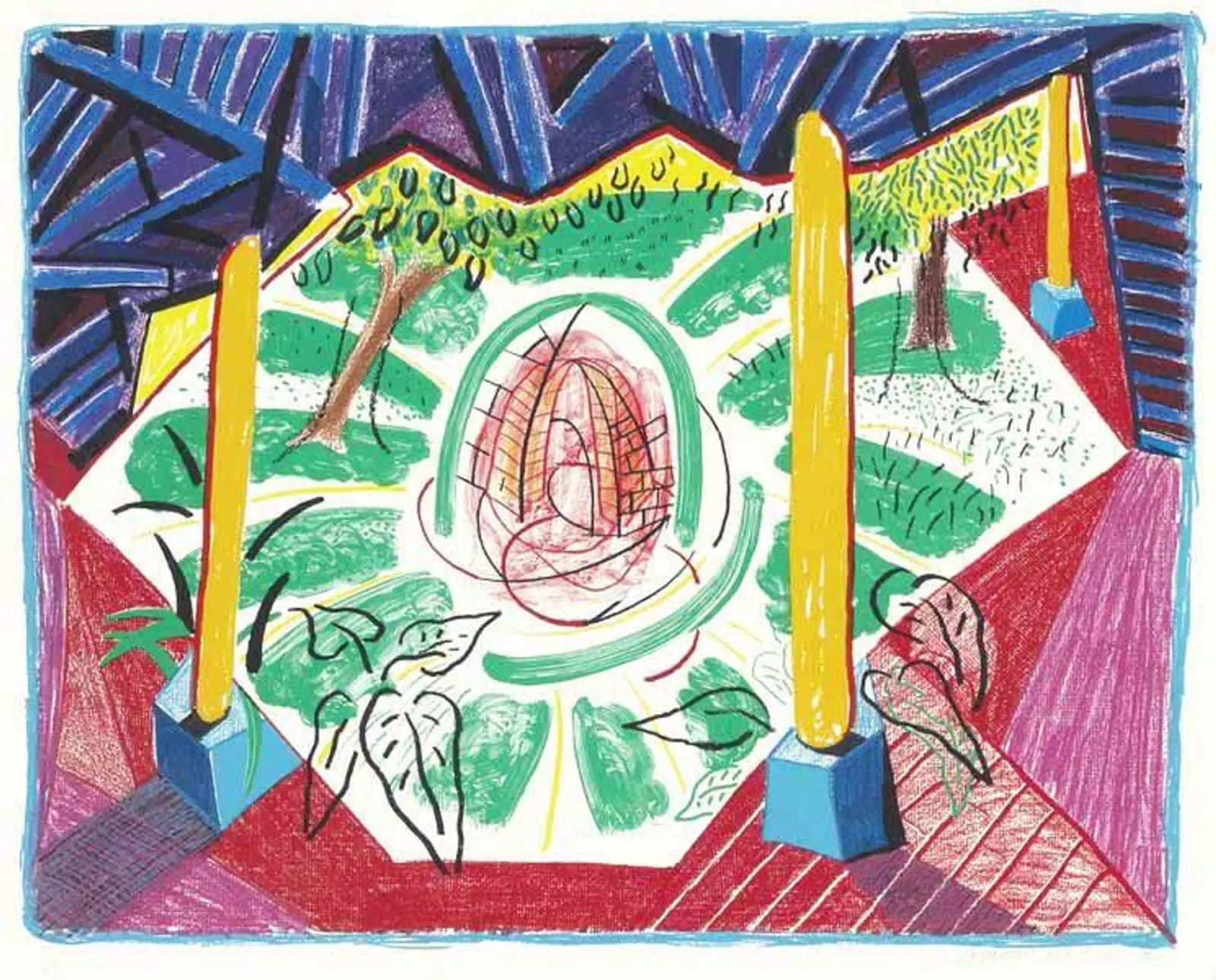 Lithograph Made of Lines Series
Commonly associated with Hockney, swimming pools are perhaps the artist's best known subject matter. A great chronicler of reality, Hockney, who moved to LA in the 60's in search of the sharp light and shadows he had seen in Hollywood movies as a student, masterfully and vividly transmits the quotidian. Noticing that many around him had swimming pools due to the weather, Hockney's fascination with pools began. Between 1964-71, Hockney made numerous paintings of swimming pools, and each painting attempted a different solution to the depiction of the continually changing surface of the water. Some of his early pool paintings contain an often naked male subject, viewed from behind, but his later 'splash' works are devoid of evident human presence such as Pool I (1978)and Lithograph of Water Made of Lines (1978).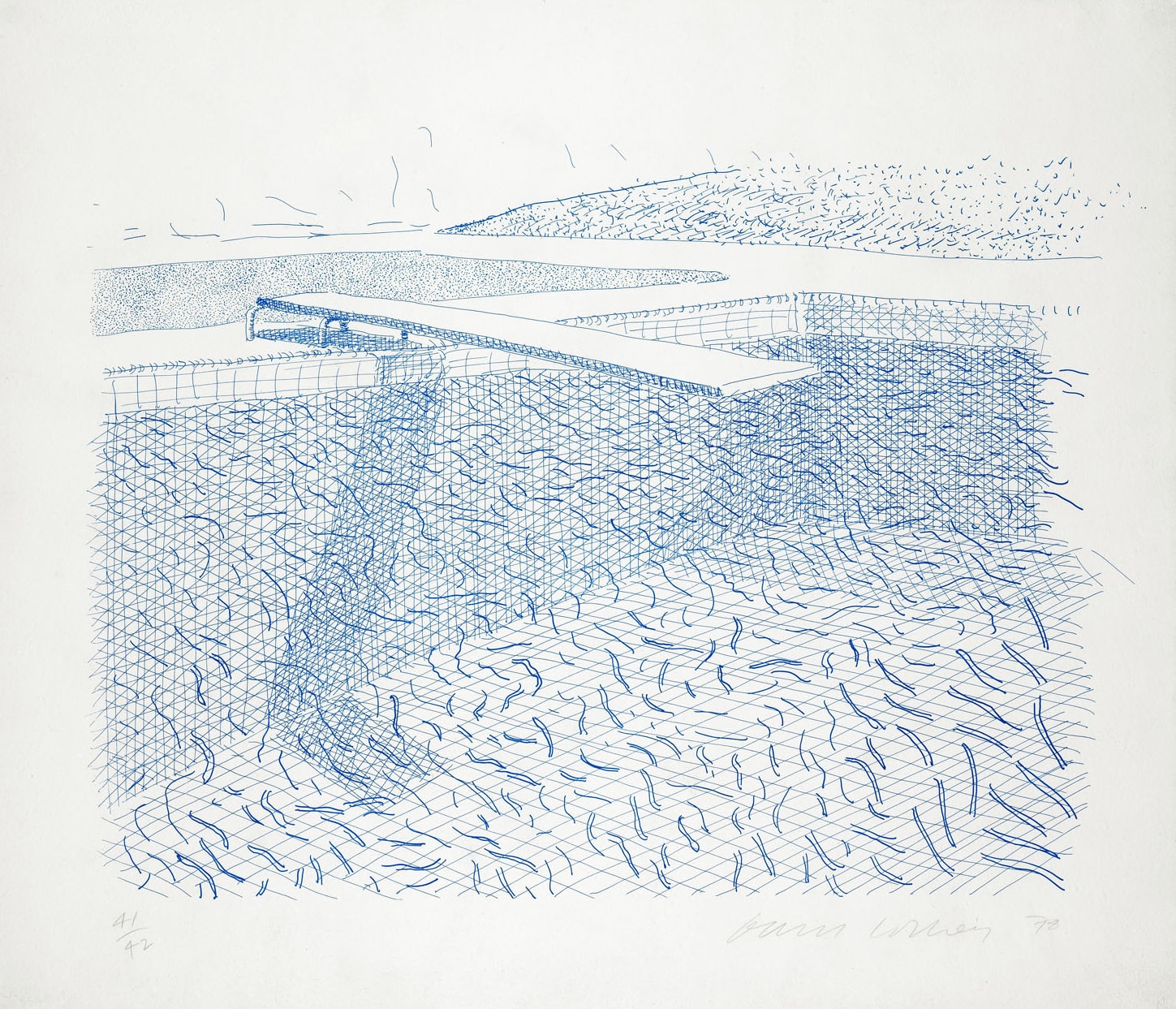 iPad Works
In 2009 Hockney embarked on a creative journey, embracing his iPhone as a tool for crafting new drawings that often captured the essence of his everyday life. While Hockney initially gained fame in the 1960s for his iconic paintings featuring swimming pool motifs, his artistic exploration has led him to experiment with various forms of media since the 1980s, including a series of groundbreaking photographic collages.
The turning point came in 2010 with the release of the iPad, which ushered in a new era of artistic expression for Hockney. His digital landscapes and drawings flourished, eventually culminating in full-fledged exhibitions showcasing artwork created entirely on handheld devices. Contrary to the notion that digital art might create a disconnect between the artist and their work, Hockney's iPhone and iPad drawings emerged as some of his most intimately personal pieces.
This evolution in Hockney's artistic journey highlights the adaptability and versatility of a seasoned artist, demonstrating how technology can seamlessly blend with traditional artistic vision, resulting in deeply personal and engaging creations.
It's important to prioritise your personal artistic preferences when choosing a print to purchase.
Authenticating a Hockney Print
Most of Hockney's prints are signed, dated, and include edition numbers. Depending on the publisher, some may also feature a blindstamp. For verification, the David Hockney Foundation maintains detailed records of the artist's print portfolios and editions, offering assistance in identifying the period of your print.
Additionally, ensure that any print you intend to purchase comes with comprehensive documentation detailing its provenance, origin, sale history, gallery associations, or any restoration work performed. Cross-checking this information can provide further confirmation of authenticity.
Checking the Condition of a Hockney Print
The condition of a Hockney print significantly impacts its value, so it's essential to assess its condition before purchasing. Look for signs of damage, including faded colours from exposure to direct sunlight, tearing, mould stains, yellowed paper, water stains, or warping due to humidity changes.
Once you acquire a Hockney print, take steps to preserve its condition. Proper framing with UV-protective glass, acid-free mounts or backing is crucial. If unframed, store the print flat in a dark and stable environment, avoiding extreme temperature fluctuations, moisture, and direct sunlight.
By following these guidelines and considering your personal preferences, you can navigate the world of David Hockney prints confidently and build a valuable and enjoyable art collection. Explore our
David Hockney prints for sale
and contact Andipa Editions via sales@andipa,com or call
+44 (0)20 7589 2371.