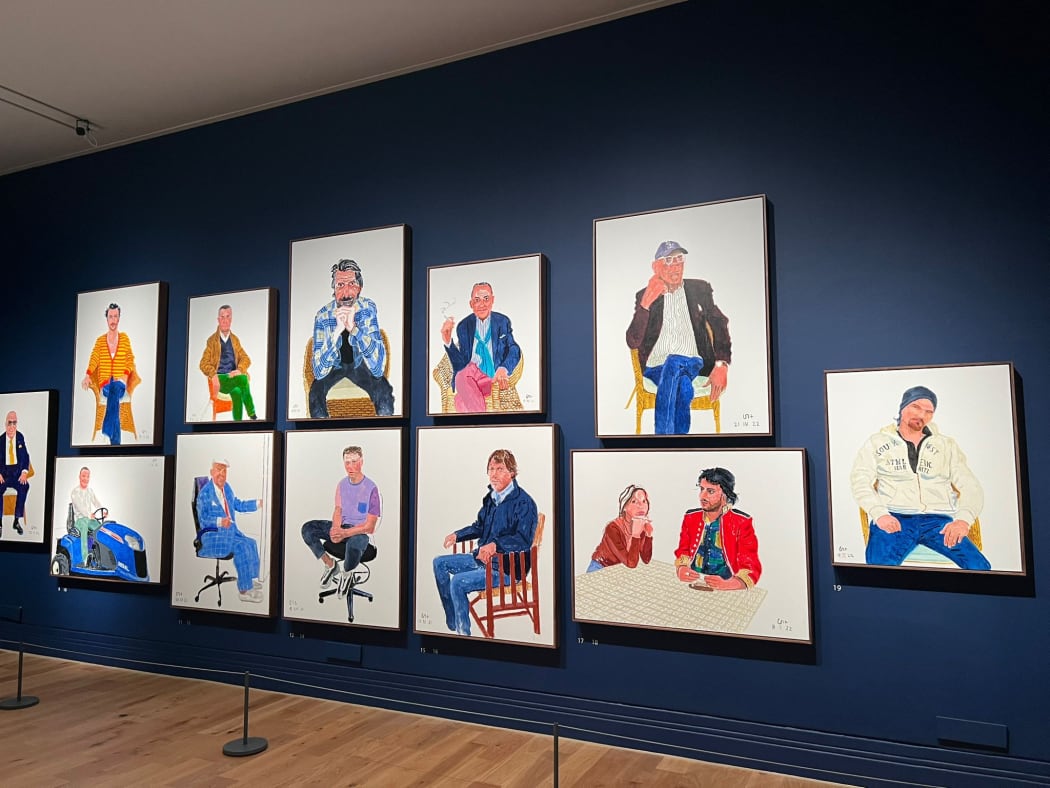 Spanning more than six decades of Hockney's extensive body of work, "Drawing from Life" showcases 160 portraits created using various mediums, including pencil, ink, paint, and even the iPad. This exhibition builds upon Hockney's recent showcase at London's Lightroom, offering visitors a comprehensive journey through the artist's career and his relationships with his recurring subjects.
Despite the initial setback caused by the pandemic, Dr. Nicholas Cullinan, the Director of the National Portrait Gallery, promised that the exhibition's return would be nothing short of extraordinary, and indeed, it lives up to those expectations.
This retrospective exhibition brings together five of Hockney's most explored subjects: his self-portrait, his close friend Celia Birtwell, his mother Laura Hockney, his former partner and curator Gregory Evans, and his master printer Maurice Payne. It showcases Hockney's remarkable versatility, not only as a traditional artist but also as a masterful draughtsman who excels in various artistic domains.
Upon entering the exhibition, visitors are immediately greeted by two self-portraits, juxtaposing the young artist in his formative years with his mature self, both exuding a sense of self-assuredness and vibrant individuality. These self-portraits symbolize Hockney's lifelong commitment to capturing the essence of life itself.
Moving further into the exhibition, visitors encounter "My Parents and Myself," an earlier version of "My Parents" that was thought to be lost but rediscovered by the curator, Sarah Howgate. This work offers a glimpse into Hockney's creative process, complete with masking tape revealing the artist's work in progress and a playful Holbein-inspired reflection in the mirror.
The exhibition also showcases Hockney's embrace of technological innovation, with a section dedicated to his iPad drawings presented on screens. While these digital works form a minimal part of the exhibition, they provide insight into Hockney's contemporary artistic exploration.
Visitors are treated to video footage of the artist flipping through hand-drawn sketchbooks, offering a glimpse into Hockney's relentless pursuit of seeing and representing the world around him.
The exhibition continues with a corridor featuring works on paper, including a lithographic series titled "A Rake's Progress," inspired by Hockney's first visit to the United States in 1961. Opposite this series is a self-portrait executed using a Xerox photocopier, showcasing Hockney's evolving style and growing fascination with color and influence of artists like Picasso.
A dedicated room in the exhibition is devoted to Celia Birtwell, a textile designer and one of Hockney's closest friends since the 1960s. Hockney's portraits of Celia meticulously capture the fabrics she wears, providing unique insights into her character and style.
Adjacent to the Celia room is a section dedicated to Hockney's mother, Laura Hockney. The poignant portraits of Laura, including an ink drawing on the day of her husband's funeral, reflect the deep connection between mother and child.
Another room in the exhibition focuses on Hockney's relationship with Gregory Evans, featuring a wide range of portraits that reveal the intimacy and evolution of their connection. One prominent piece splices Gregory's features into Picasso-inspired segments, highlighting Hockney's fascination with his subject.
Maurice Payne, Hockney's master printer and collaborator, is also celebrated in the exhibition, showcasing their long-lasting creative partnership.
Towards the end of the exhibition, visitors are presented with Hockney's most frequent sitters in recent times, including Gregory, Celia, and Maurice, captured in sepia ink portraits from Hockney's Normandy studio. These portraits convey the enduring vitality of his subjects.
The final room, a new addition to the exhibition, features large-scale painted portraits from Hockney's Normandy studio, including notable figures like Harry Styles and Jean-Pierre Gonçlaves. These recent portraits underscore Hockney's unwavering commitment to exploring new faces and characters with boundless curiosity and joy.
At the age of 86, David Hockney continues to be a prominent force in contemporary art, and these final portraits serve as a testament to his enduring creativity and relevance in the art world.