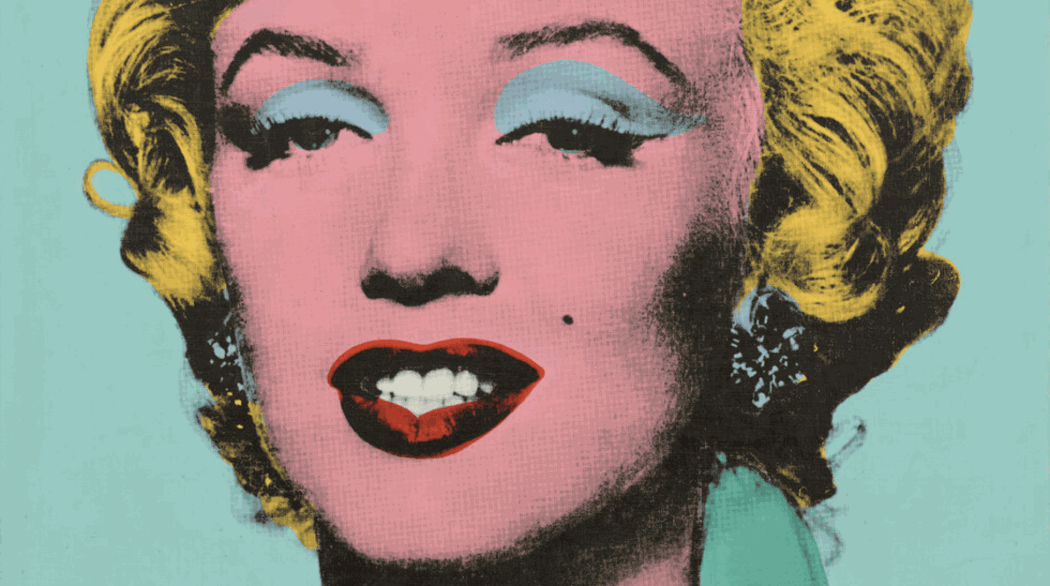 What is the most expensive Andy Warhol artwork?
The Shot Blue Marilyn
$195.4m USD
Christie's, May 2022
Fitting for one of his most famous images, the most expensive Andy Warhol painting is "The Blue Shoe Marilyn" which sold for an astonishing $195.4 million USD at Christie's in May 2022. Featuring one of the most famous actresses and stars of all time, Marilyn Monroe, the image has been repeated throughout Warhol's career and has spawned countless reproductions. The artwork depicts screen icon Marylin Monroe, against a sage blue background. The picture of Monroe is based on promotional material for her film Niagara (1953) and portrays the Hollywood star with her distinctive mole.
Shot Marilyns refers to a series of paintings produced in 1964 by Warhol, each canvas measuring 40 inches square and is a portrait of Marilyn Monroe.
"Shot" refers to when Dorothy Podber, a performance artist and friend of Factory photographer Billy Name, saw the recently completed paintings stacked against one another at the studio and asked Warhol if she could shoot them. Believing that she intended to photograph the paintings, Warhol agreed. Podber doffed her pair of black gloves, withdrew a small revolver from her purse, and fired a shot into the stack of four paintings, which became known as The Shot Marilyns. The fifth painting with the turquoise background was not in the stack.
Silver Car Crash (Double Disaster) (USD 105 Million)
$105m USD
Sotheby's, 2013
Comprising two enormous canvases measuring over 2.4m in height and with a combined width of 3.9m the work is a visually impactful piece that is part of Warhol's seminal Death and Disaster series. Produced in 1963 when Warhol was only 35 years old, the work depicts a body twisted into the damaged interior of a silver car.
On the work,Sotheby's notes "the expansive surface with a constantly adjusting, reflective quality that is absent from the single colour acrylic grounds of the other paintings."
Eight Elvises
$100m USD
Private sale, 2009
The King of pop has featured in a number of artworks by Andy Warhol over the years. Indeed, Elvis, even as the subject in an artwork, still broke records long after his passing. Eight Elvis is a silkscreen print painting created in 1963 which depicts eight images of Elvis Presley side-by-side on a long canvas.
The Eight Elvises is 3.6 metres in height and is the only one of its kind, unlike the 22 versions of Double Elvis [Ferus Type] featuring two images of Elvis.The work was sold in a private auction via Philippe Ségalot and is believed to have been bought by the State of Qatar.
Triple Elvis [Ferus Type] (USD 81.9)
$81.9m USD
Christie's, November 2014
Once again, Mississippi's most fmaous son returns to the list of most expensive Andy Warhol artworks ever sold in the form of the Triple Elvis [Ferus Type] which sold for $81.9, USD at Christie's in November 2014. As the name suggests, the work features three identical images of elvis in a line. Based on the publicity image of Evis Presley from the 1960 film Flaming Star the work was described by Christie's as a "confident posture, with Elvis staring directly out of the canvas with his famous 'baby blue' eyes."
Turquoise Marilyn
$80m USD
Private sale via Larry Gagosian,

2007

The second work from the Shot Marilyn series - comprising of five different colourways red, orange, light blue, turquoise and sage blue - the work once again demonstrates Warhol's innate ability to capture and distil the essence of his subjects in his portraits.




Produced in 1962, the silkscreen ink on synthetic polymer paint on canvas, is arguably, along with the Campbell's Soup Cans, Warhol's most famous image.It was rumoured to have been sold to billionaire art collector Steven Cohen in 2007.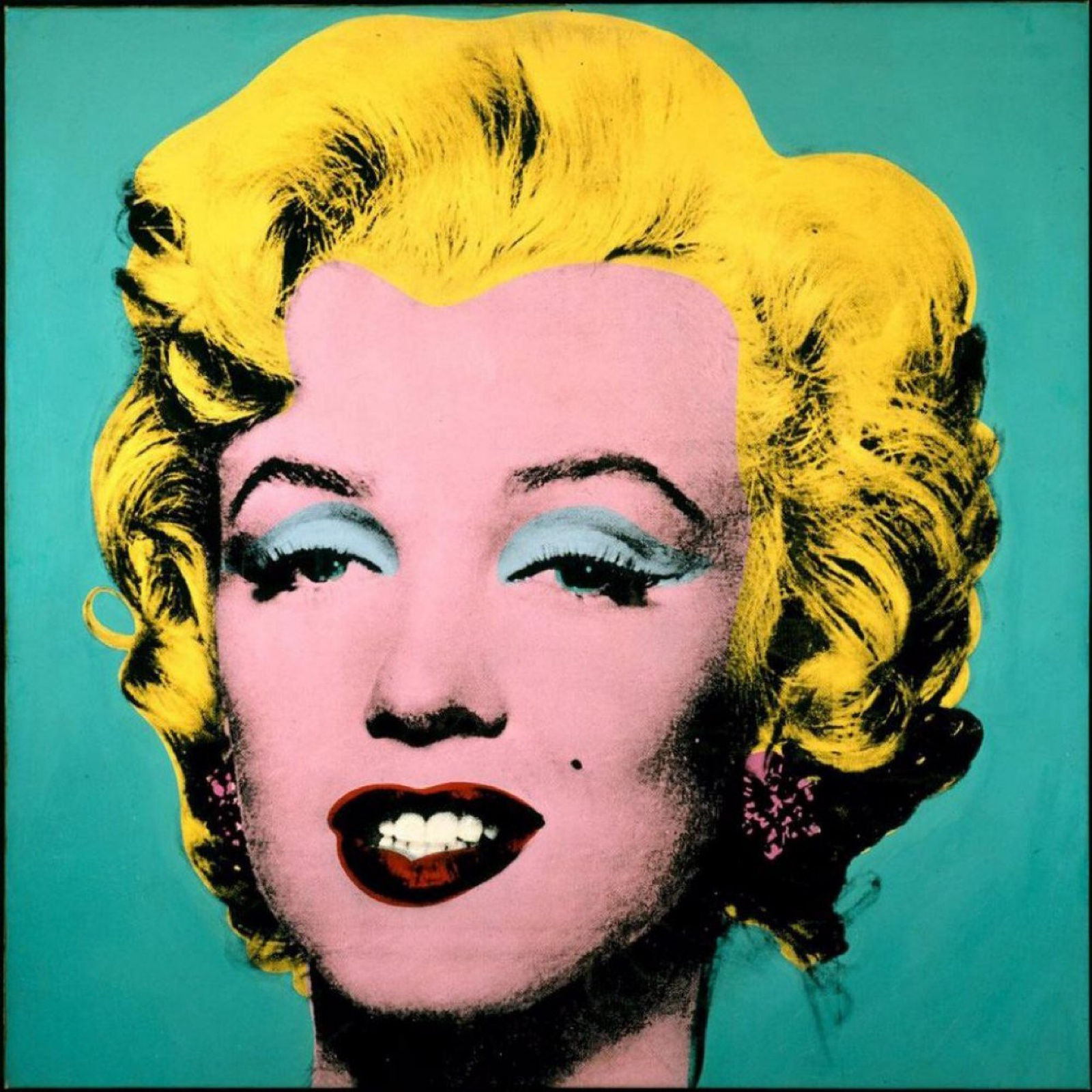 Green Car Crash (Burning Green Car I)
$71.7m USD
May 2015, Christie's
Part of the Death and Destruction series, the work was inspired by photos taken from the Newsweek magazine. In the image we see an overturned car that was pursued Seattle police causing the driver to lose control and crash into a utility pole. The work is from a series of five works and is the only one to use a colourway other than black and white.
In the lot essay for the work, Christie's describe the work "a haunting work whose macabre and endlessly puzzling imagery startles with its stark and repetitive photographic presentation of a mundane suburban street shockingly transformed into a horrific disaster scene bordering on that of a surrealistic nightmare."
Four Marlons
$69.6m USD
Christies, 2014
Once again showcasing Warhol;'s interest and fascination with celebrity, Four Marlons features four impressions of Hollywood actor Marlon Brando with a chequered black-and-white pattern. The work is based on Marlon Brando's appearance in the film The Wild where he played the role as a biker gang leader named Johnny Strabler. Warhol also used the same image in his 1063 work "Silver Marlon"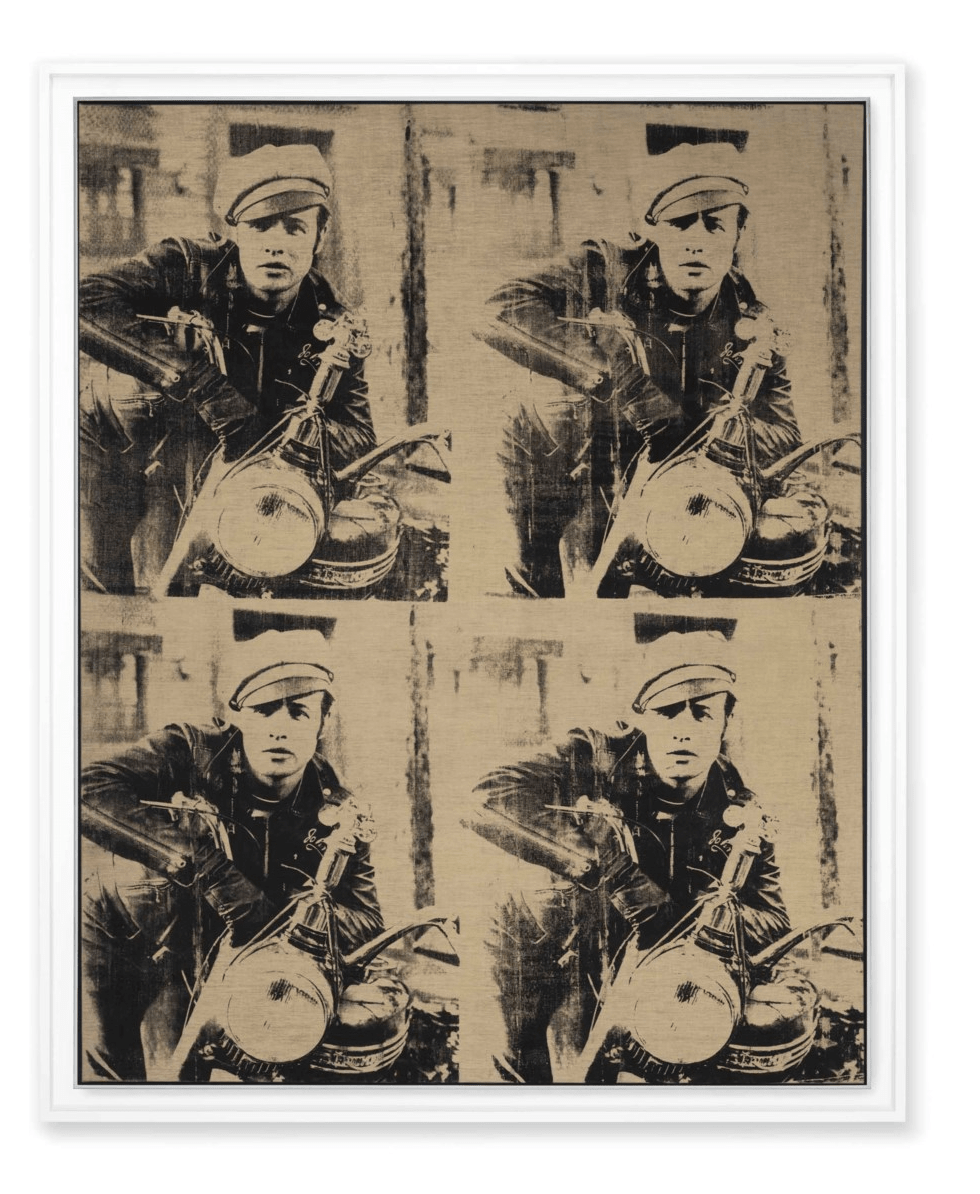 Men In Her Life
$63.3m USD
Phillips New York, November, 2010
Created in 1962, Men in Her Life is about Elizabeth Taylor and her relationships. It is also among one of the earliest silkscreen paintings by Warhol. The painting is one of the only four in the similarly named series and is also one of the only two of the series, rendered in a large-scale, multi-image format. Of the four, this painting is the largest.
Race Riot (in Four Parts)
£62.8m USD
Christie's, May 2014
Created in 1964, the work is based on a photograph taken by Carhles Moore that featured in Life Magazine.Americans were shocked by a photo-essay published in Life magazine that showed young black protesters being fire-hosed and set upon by police dogs. The work recalls the civil liberties struggles of African-Americans in the United States and is poignant, political conscious work that shows Warhol to be the great chronicler of his age. A similar version exists in print form in Birmingham Race Riot F & S (II. 3).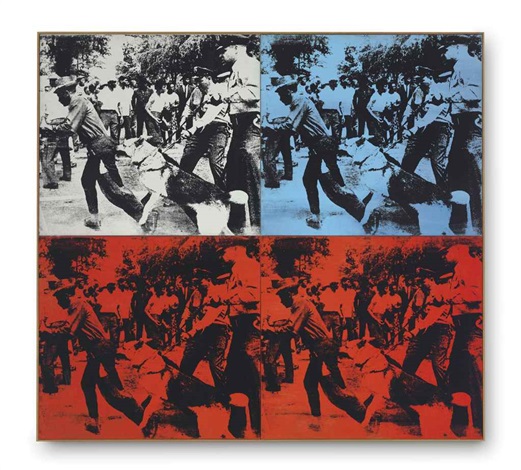 Christie's wrote, "Like the story of Moore's photographs, Warhol's startling silkscreened paintings pose important questions about the nature and function of media imagery, about how we see and react to the news and how its images can also be used to provoke and manipulate us. How, also, the power of even the most shocking and provocative of 'realist' imagery disintegrates under constant repetition or alternatively, how the same images can be employed, as in advertising, to manipulate an audience and even government policy into any given direction."
Discover more Warhol content with our Andy Warhol print guide and explore our
Andy Warhol prints for sale
. For more information, contact Andipa Editions via
sales@andipa.com
or call +44 (0)20 7589 2371.