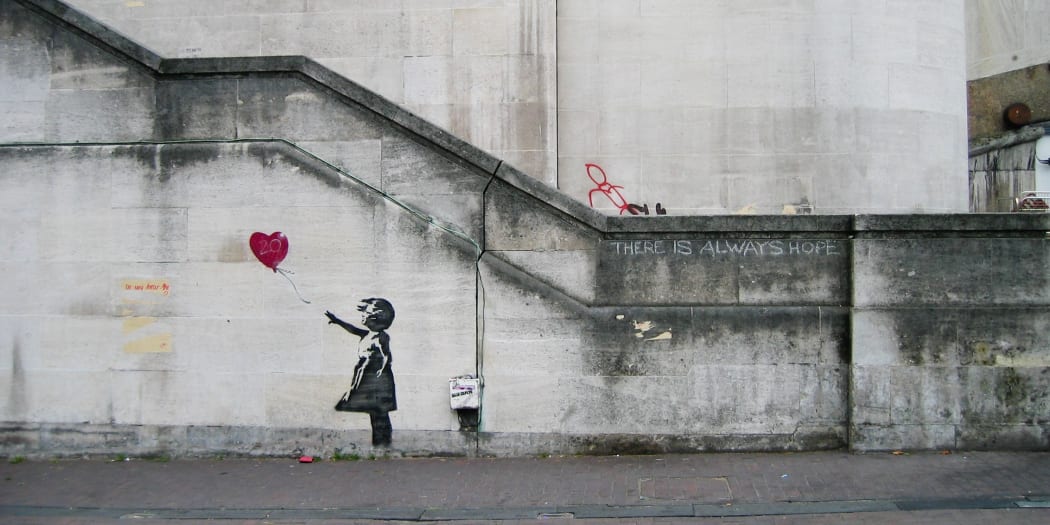 Between 2004/2005 the work was released by Pictures on Walls as a signed edition of 150 and an unsigned edition of 600. Proving instantly popular with collectors, the work captures the stencil style of graffiti that Banksy became renowned for.
On examining the work, the viewer is immediately drawn to both the figure of the young girl and the balloon. The red balloon, a symbol of childhood and innocence, floats just out of reach from the girl whose hair, like the balloon, is carried in the wind. A sense of duality inhabits the piece and the "message" of the work can be interpreted in two ways. Does the work show the loss of hope and innocence or is the girl reaching out, eagerly waiting to receive a love that she so desperately craves? Instantly relatable and inherently human, the work has come to symbolise the artist and his style.
As well as the signed and unsigned red versions of Girl With Balloon there also exist a number of other colour print versions including: Girl With Balloon Colour AP (Purple) and Girl With Balloon Colour AP (Gold). Both AP versions are extraordinarily rare and belong to editions of 88. In March 2021 at Sotheby's London Modern Renaissance: A Cross-Category Sale the Gold version fetched a record auction price for the artist's prints going for £1,104,000 GBP beating the previous record for the artist set by the purple version which went for £791,250 GBP breaking the world auction record for a print by the British street artist and the record for a print sold in an online auction. Reportedly another Gold version sold privately for 1.3m GBP.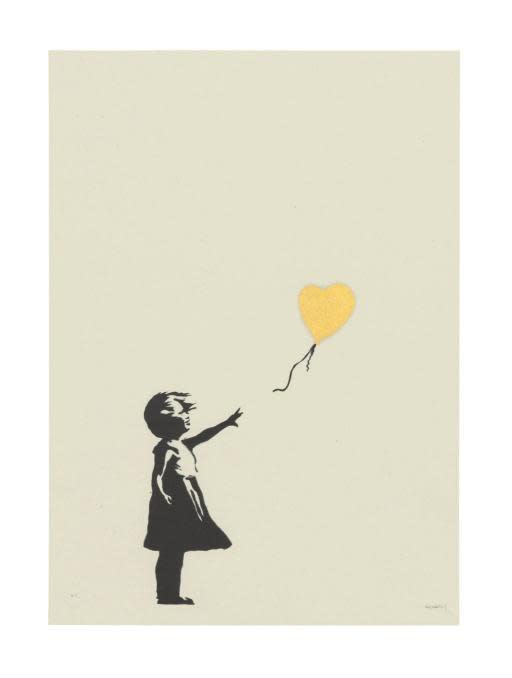 Other equally desirable versions include both Girl with Balloon single canvas and Girl with Balloon double canvas. Both from editions of 25, these hand-sprayed works are often seen to be the crown jewels for many Banksy collectors.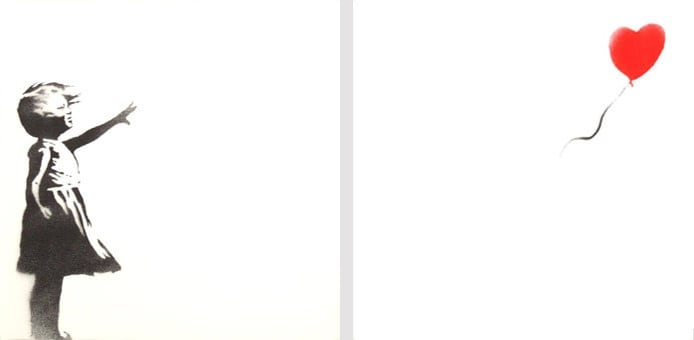 Cementing its popularity with the wider public, in July 2017, a Samsung poll of 2,000 people from the United Kingdom asked participants to rank twenty pieces of British art. The poll's results listed Balloon Girl as the people's number one favourite artwork.
Famously, in 2018, a framed copy of the work spontaneously shredded at auction, by way of a mechanical device Banksy had hidden in the frame. Banksy revealed that he was responsible for the shredding and gave the altered piece a new name, Love is in the Bin. Sotheby's said it was "the first work in history ever created during a live auction."

The beauty of the piece, for ourselves, is that the image never gets old. Much like the ageless girl who takes centrestage - the image carries a timeless feel that is quite simply captivating. For more information on both unsigned Girl with Balloon or signed Girl with Balloon or any of our Banksy prints for sale, contact Andipa Editions on sales@andipa.com or via +44(0)20 7589 2371.